Welcome to One Piece: Memories
Greetings & welcome to One Piece Memories a place to create memories, make friends & sail the sea. You can take whichever path you choose from a life of justice to a life of piracy and anything in between. Have fun upon the deadly seas that await your arrival.

General Information
Name
:  Tiri Leiko (Family name is first)
Epithet
: Put your character's nickname in here if they have one
Age
: 27
Gender
: Girl
Birthplace
: West Blue.
Species
: Human.
Orientation
:  Right handed. Due to fruit,  nearly ambidextrous.
Crew
: ~
Ship
:
Occupation
: Doctor / Makeup artist. Ex-CP2 agent.
Bounty
:
Allegiance
: Revolutionary.
Dream(s)
: To find her paradise island, or make one. To be able to fly.
Character Information
Flag
:
Appearance
:  Leiko has pink hair with mostly white clothing and a dark blue sash on her waist. She can mostly be seen with a serene expression, even in battle. Her facial expressions don't change much (largely due to most of the time she's hiding within a puppet of herself) and therefore would seem mostly stiff in her movements. She's only really a bit smaller than the puppet, it's a thin, hollow one. She mostly has flowing robes, which somehow don't show off much of her upper lower body, despite them being parted at the front legs She can often be seen with butterflies flying around or on her, these are her pets, so far she's at generation twenty with their line.  Her hair appears to sprout out of the puppet, though in actuality it's because she leaves an opening at the top so her hair doesn't get ruined from staying inside it. It is possible to see through her puppet disguise, through messing the makeup up, or the joints that use rubber in order to be disguised.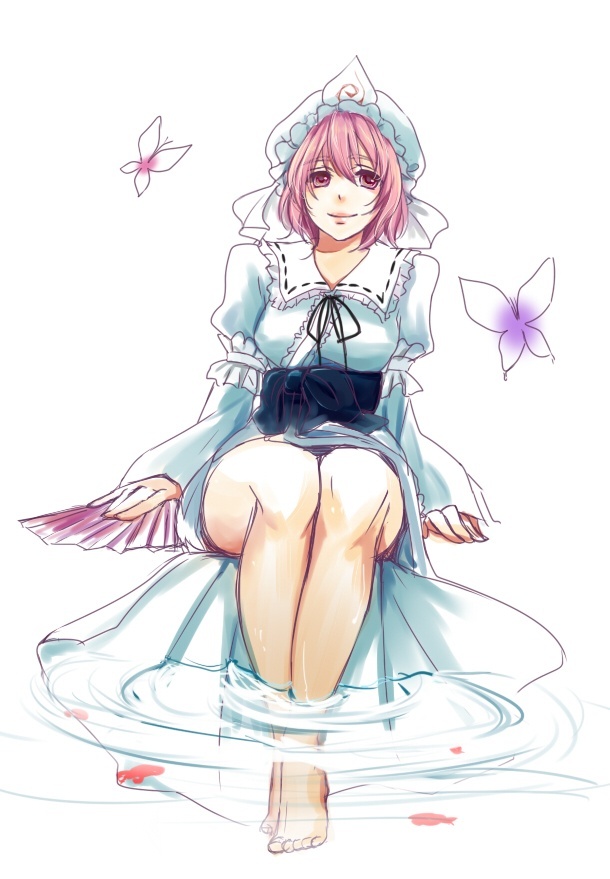 Personality
:  Due to her spoiled upbringing, she has never known physical pain, she has never been slapped nor pinched. Therefore, she has no idea what if feels like, though has a fascination with seeing it on other people. You could say she's one of
these
, she looks and seems nice when you talk to her. She doesn't like mammals, but likes insects instead. One, she almost got trampled by a bunch of dogs, and therefore has a phobia of them, being the closest things to ever cause her actual pain. She's the kind of doctor you don't want, sadistic and the like. Though to her outlying personality you might like her, she definitely prefers the bone saw with no nothing to pull the pain.  She is nearly completely reliant on her devil fruit powers, and has absolutely no intention of changing that. She doesn't like physical work, though makes herself useful with her medical knowledge so people don't abandon her. As said before, she's spoilt and used to getting what she wants. The only real reason she joined up with any revolutionaries is because she doesn't like being told what to do. I.E, she dislikes the world government for having people higher ranking than her. 
She usually makes herself out to be weaker than she actually is, hiding within a puppet body most of the time. This is probably how she's so pale and yet rarely has a sunburn. She regularly polishes her wooden protection and narrows it out a little so it's harder to get a full on strike at her with a sword as the blade just slides off. She likes butterflies and wishes she could fly and flutter like them. She mostly keeps behind her serene smiling expression, even when causing someone incalculable pain or when doctoring.  She stays behind (or inside) her puppets to keep herself from harm. Furthermore, she dislikes other females, especially if she's under the impression that they're prettier than her. Her major berserk button is the harming of her butterflies, which are pretty much the only living beings she actually cherishes.  Overall, she appears to be a bit of a sociopath.
Character History
Background
When Leiko was born, her upper-class parents didn't know what to name her. They toiled for weeks as they absent-mindedly let her play with anything she wanted. They fought and thought, hoping to give her the grandest name for a lady. They already had a male son, Sebastian and they already had plans for him to use their influence to give him a world government job. They had different ideologies over whether Leiko's name should be strong, or delicate. Whether they should marry her off, or to give her a job. It was all in the name for them. In the first few years, they gave her a temporary name, Soki. It didn't mean anything, but they could change it when she was older.  
A couple of years went past, and Leiko was allowed to wander around the building, it was protected by security and there were soft, red carpets everywhere so she couldn't have hurt herself. She crawled over to her parents' room and saw it, she was hungry.. And her maids usually looked after her, but she was hungry and they had a day off, but she found a large fruit. She crawled over to it, climbing up the chair precariously and took a large bite out of the fruit. To anyone else it might've tasted like hell incarnate, but to her and the developing taste buds that allowed her to eat even slugs with a happy smile, she was gorging herself until around 80% of the fruit remained and she was full. 
She stayed on her fathers' desk and slept. When her parents walked into the room, they were furious. They brought that fruit for Sebastian, in the hope that it would allow him to become a high-end agent, but they hadn't expected her to come into the room. They fired the person in charge for looking after her, and renamed her "Leiko", which means 'arrogant'. The devil fruit cost a lot of money but it didn't cripple them. They knew what fruit it was and decided to make Leiko an agent as well. When she grew older she learned the basics of the human body and the deftness of makeup. She was taught more and more on doctoring, how to sew someone back together and was given the upmost adoration by the people in their mansion, eventually her parents getting over the fact that she ate their beli before she was even able to walk. She was never slapped, and soon became extremely spoilt. Though she was cunning, and found that by playing the cute and shy girl act she could get nearly anything she wanted. 
It soon came for her to become an agent, and she was sent to a secret location. While her brother had joined a certain secret agency in the cipher pols, she was in CP2. Every now and then her brother visited her as she moaned about her occupation, how boring it was and giving the odd temper tantrum, which ultimately got her kicked out of the pol.  Her parents scolded her, though she had enough. She didn't need all of that authority. After lounging about for a couple of years, and after adopting two butterflies, she decided to just walk out. And she did, she simply walked out of the mansion with her hardly-used devil fruit powers carrying her stuff, off to the boat and said she was on business to Hoeltown, and decided to remove the world of all rules, and to have her own little (or big) paradise. AS she looked up, for once she felt a foreign emotion as she looked at the creatures flying above her, birds? They looked so free, without worry. She wanted to be like them. She wanted to fly.
Abilities
:  
Makeup artist: Can disguise herself/others.
Multitasking: Both innate and due to her fruit.
Pressure point knowledge: should she be attacked, she theoretically knows many pressure points on the body, though she might have a fun time actually trying to reach them.
Moderate acting ability: Can play the damsel in distress, etc.
Gorger: She sure can eat, probably has a high metabolism.
Inventory
Two butterflies, one male one female. Male is pink, female is purple.
Her fan.
Her clothes.
(CARRIED BY HER PUPPETS)
Her clothes/a few extra spares.
Makeup toolkit.
Three normal stilettos, and two shortswords.
A backpack.
Shoes.
Weapon
: 
Bonesaw.
Weapon Description
: 
It's your average bonesaw, serrated and painful-looking.  
Weapon Special Abilities
: 
It's like a miniature saw, can cut through bones and flesh quite easily if used properly. Not advisable for combat, since it needs to be used LIKE a saw-hence its name- in order to cut through anything. Still might hurt if used like a sword, though.
Weapon History
: 
She brought it.
Power Level Information
Character Strength
:  Average.
Character Speed
:   Proficient.
Character Resilience
:   Average.
Character Dexterity
:   Expert.
Devil Fruit Information
Devil Fruit Name
: Deku deku no mi. (Puppet Puppet fruit)
Devil Fruit Type
: Paramecia.
Devil Fruit Mastery Level
: (CURRENTLY AT LEVEL 1) 
Spoiler:

Level 1: The user is able to make puppets out of solid objects. This requires placing their hand onto the aforesaid surface and to 'dip' their hands into it. They would then pull and a puppet of whatever form the user would wish would come out. However, the imagination would be limited to how many joints there are in a puppet. At this level, the user would only be able to control one joint per finger, "I.E, elbows, shoulders, neck etc). The puppets would be controlled by thread. They can be up to human size (Your own) depending on how much of the material is available.
 
Level 2: The user is able to make puppets out of both solid and semi-solid materials, such as mud and be able to hold it together. The user is able to control two joints per finger, and has heightened multitasking skills. The user can now integrate other materials into the first one, such as adding a knife to a wooden object, the user no longer requires threads, able to control it via semi-telekinesis, but has a limited range, of up to fifty meters.  Moreover, the user is now able to make larger puppets, up to twice the size and length of the average height of a human. However, the larger the puppet, the longer it would take to make.
 
Level 3: The user is now able to control as many joints as they wish, and have a superior talent in multitasking, even able to control multiple puppets. They can now fit mechanisms into their puppets by adding different other materials, a block of iron could be moulded into both a shiv and spring. You can now give it poisonous materials to coat its weapons. The user does not need a range as to how far it can be controlled, and the user can now enter the puppet's spirit, moving it as if it were their own body.  The puppet can now be up to a giants' size, though the larger it would be the more hollow, though they could be used as transports.  The user could even disguise it to look exactly like them, and walk like a human as decoys, or create a small army or crew of puppets.  HOWEVER: The user cannot make a small army or crew of giant-size puppets, unfortunately it can only be of the same size as the user.

Devil Fruit Abilities: The puppet fruit allows the user to create puppets from nearby surfaces, the surface has to be at least partially solid. I.e. mud or jelly puppets are harder to control than others, while wood and stone are easier. However, weight is also a factor in their creation, so stone would be heavier than something like jelly, therefore being slower.  The better the puppeteer is at using the fruit, the easier it becomes to maneuverer them. The user can incorporate different materials into the puppet to give them different abilities, such as moulding a dagger into it would give the puppet a sharp object anywhere the puppeteer desires, such as a secret mechanism in the hand where a spike shoots out. Someone who's experienced in the fruit can even use multiple puppets, increasing their ability to multitask between them, and even use them at a longer range. Puppets can be controlled through various means, from the traditional string to using a long stick. It's even possible to control them using an extension of one's soul in fact, allowing them to control them for as far as one can see.
Devil Fruit Weaknesses
: Standard weaknesses. Cut the threads  at level 1 and she loses control of her puppets.
Combat Information
Unarmed Combat
:
Improvised.
Weapon Based Combat
:
Improvised.
Devil Fruit Based Combat
:
Kopi-Kopi: Before any thread, Leiko usually creates a copy of herself out of puppets. She has gotten quite good at this, and can make a puppet of her build down to the last letter and adds a weapon. As she makes it, she makes sure that it is hollow, with a layer of surface to protect her, usually about three centimeters. This makes her out to be larger a bit than she actually is. Then she uses her makeup expertise to add the colour of skin tone, hair and so forth, before finally giving it her clothes and entering it.  
This allows her to change the appearance of her puppet, though she isn't quite good at changing it to anything other than her own, a nose might be too large, lips might be too thin to look human if she chose to improvise on the face.  This not only allows her to manifest the weapon she stored at will, but also makes her immune to the effects of certain devil fruits, though opens up weaknesses to others. (The rupture fruit can affect the puppet, while the Mane-mane is no-sold, since the puppet is made of wood and it's not her actual face.) 
Furthermore, the user can re-attach a joint so he/she can pull themselves with strings. Wrapping it around a lamp-post would perhaps allow her to pull herself out of danger, or to dangle on a building. Usually these joints would be on the back.
Joints: 0, joints are removed once a human enters them, before its 10, for shoulders knees feet elbows and hip. 
PokéPoké: This puppet is essentially a pack mule, it carries around Leiko's stuff in the various pockets around its body, on its back is the weapons, chest the makeup etc.
Joints: 10, hips, shoulders, knees, feet and elbows.  
DefDef: Leiko dips her hands into a surface and draws out various artistic works, most notably a head with arms attached with two short swords in each hand.
Joints:Depends on the puppet.
Haki
:
Last edited by Vaetric on Thu Apr 17, 2014 7:47 am; edited 1 time in total
Crew gone, RP gone, She's gone.

I.E, I wish to delete her please, I'm not quite sure if I could get her personality down in roleplay and the Canvas has been remade.

Similar topics
---
Permissions in this forum:
You
cannot
reply to topics in this forum