Welcome to One Piece: Memories
Greetings & welcome to One Piece Memories a place to create memories, make friends & sail the sea. You can take whichever path you choose from a life of justice to a life of piracy and anything in between. Have fun upon the deadly seas that await your arrival.

ize=18]
General Information
[/size]
Name
:  Fayde
Epithet
: None yet.
Age
: 21
Gender
: Female
Birthplace
: East Blue.
Species
: Human.
Orientation
: Right handed.
Crew
: N/A
Ship
:
Occupation
:  Marksman. (Also, bard)
Rank
: N/A
Bounty
:
0
Bounty Collected
:
Allegiance
: Herself, justice.
Dream(s)
: Bring the guilty to justice, protect the innocent and to bring the new world under order.
Themesong
:
I Am The One
Character Information
Flag
: N/A
(EAST BLUE ATTIRE)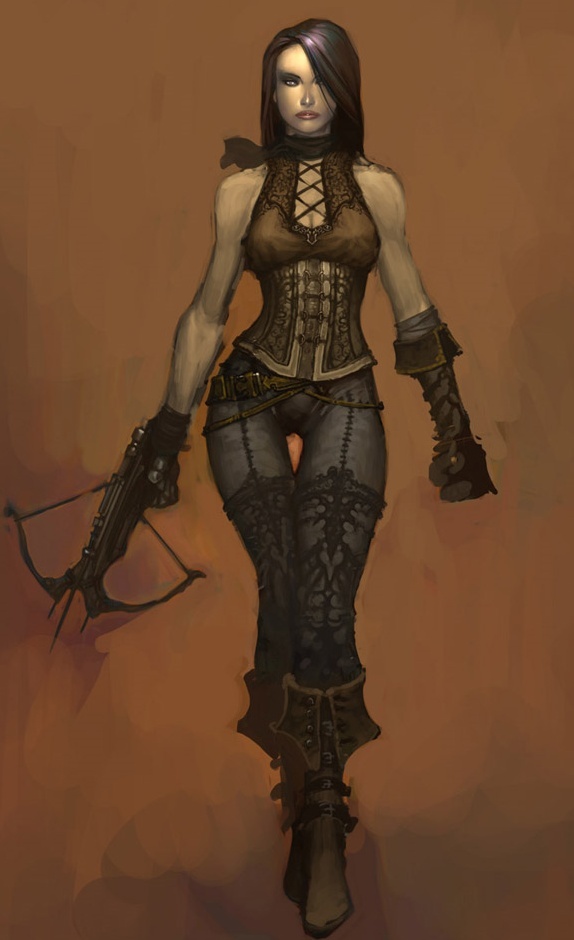 Appearance
: Fayde stands at five foot eight inches. She's fairly thin and curvy. Her hair is shining black with hints of purple, probably by dye. Her face is flawless, in fact it's a little TOO flawless, making her face seem like many in a crowd.  She looks (and probably is) stern and foreboding, and her mouth is devoid of laughter lines.  
Her clothes seem a little tight, with her wearing a corset-like top that hugs at her body. She has a scarf that wraps around her neck like a collar. Her trousers, like her top are tight but look quite pretty actually, with elaborate dark frills combined with her shoes that make her look like a swashbuckler. 
While in her hybrid form her arms lenghten down to below her knees, gaining sharp claws and having bat-wings behind them. Her ears also become longer and most of her face becomes purpose apart from the mouth (like Dalmatian the marine). She has long canine teeth, that are quite pronounced and she isn't even able to hide them, they just poke out of her mouth.
Personality
:  Much like her appearance, Fayde is a serious person. She doesn't like to fool around nor play games, she follows most of her actions through with the same stoic expression. She does not like being caught unawares and likes to prepare for all possible outcomes, in which she rarely seems to actually do. 
She gets angry when she sees people preying on the innocent and she hates corruption. More than likely she would attack corrupt marines (only in the act) as well as criminals. She doesn't mind it however when she drinks the blood of criminals. 
She does not enjoy killing. She leaves that to the murdering scum whom she brings in. However, she will under the conditions of:
A: There is no hope for the criminal, and must be put down.
B: In self-defense.
C: Their survival is pivotal in some insidious plan.  
Sometimes she has despair event horizons, where she believes that all humanity is beyond hope, one could tell she has these when she starts to sing to herself to cheer herself up. As a former (near enough) a slave, she dislike slavery.
Character History
Background
Born into an island oppressed by pirates, the marines had turned a blind eye to the rolling payments, garnered by the townsfolk, pilfered by their overlords and traded to the ones meant to protect them.  Fayde, born under the name  Fiora, with no second name given. Like most towns underneath the rule of pirates, they didn't quite have the manpower nor hope to actually fight back. People now and then came to collect their bounties, but usually ended up shredded. 
Fiora grew up wanting to be a musician, learning how to play the lyre. She learned how to sing and tell stories, she started this at the age of twelve. Eventually her prowess was heard by the pirate crew, whom kidnapped her and forced her to play for them, and to generally entertain. She missed her family, but knew that if she refused they would simply take it out on them, making her comply. It seemed that they weren't evil enough to hurt a child, but that didn't stop them from verbal abuse nor even bothering to take her out of a room when they killed someone, just telling her to sing over and over again. 
She wondered what her parents were doing, why hadn't they even visited? The pirates claimed that if they came they would let her see them, but they didn't. After a couple of years, at the age of fifteen yet another hopeful bounty hunter came seeking the captain's head. He came closer than most people, though he still had to retreat. Fiora awakened to the sound of a door shutting, the bounty hunter was in her room! He looked harried. "Wha-" She began, but was quickly hushed. She heard the sound of footsteps through the hallway, and the man hid near the cupboard. The door opened, "Oi kid, did a guy come in here?" One of the pirates asked, she slowly shook her head. He closed the door and ran off. 
A few seconds later, the man nodded to her, and crept over to the door, opening it. No one was there, he was about to leave before blood splattered over the carpet. "Fiora, Fiora, Fiora. You've got to tell us when creepy men come into your room." She heard, and before her eyes a man came out of the blue, they said he could become invisible at will, but she never saw it before. "If the captain were killed, it wouldn't bode well for your village." He said, before disappearing once more. He shut the door and locked it, leaving her with a bleeding corpse. They didn't open the door until she cleaned it up, generally by giving her cleaning utensils through the window. On him she found a bit of a block of wood. Then a small quiver with a bunch of sticks in them. 
She left the chunky stick and quiver in her cupboard. She had become so used to death around her that it scared her. What was she turning into? The next year, some more bounty hunters came. These ones were nothing like the previous ones. That evening people were getting drunk and tired, she was forced to continue singing and playing her lyre. The doors of the longhouse-esque building banged open, and three people emerged. The captain peered at them, before grabbing her. "Come here, 'luv." He said, biting his teeth into her neck, she screamed, she felt like he was draining her! "Aaah." He said, after detaching himself. And then he suddenly changed, he grew monstrous, and he.. Flew? He flew towards them, and pushed them all outside, the others went out to fight them. The battle was long, longer than others.  
She heard one final gunshot, who won? She was busy hiding behind the wall near to the door, when suddenly the peach she was holding in her hand began to change. It became larger, tomato shaped with swirls around it. The stem grew and the bottom became blood red. Also, the top became purple as well, what was that? What happened? What was she holding in her hands? She sniffed it, she couldn't quite discern the smell, but a peach was a peach, things don't just suddenly change. She heard a bang at the door. "Hah! Told you he had the invisibility fruit, now all we have to do is get back to the grand line." Said one of the bounty hunters, picking up another one of the weird fruits, though it looked different. "Now, how much was he wo-" said what seemed to be the leader, stopping his sentence when he saw her. "You weren't fighting with the pirates, who are you?" She timidly told them a shortened version of her story, when one of them ate the weird fruit. "Bleugh! Tastes like shi-" "Lady present!" "Oh, right. But now we're all users!" said the guy, suddenly disappearing from view, a couple of moments later, he reappeared behind her." And I guess that's the old captain's fruit you've got right there. Never seen its like before, he turned into some kind of massive bat! But we're not interested in it, you can have it." "'Ey 'ey, hold on! Those fruits sell for a fortune!" "Oh yeah, they do don't they?" "Well, she needs it, doesn't she? For compensation." What were they on about? "Oh, those sell for quite a lot of beli, miss. Anyway, we should get going to that archipelago place, we've lost quite a bit of time. Also, we've got a lot of bodies to lug." They nodded to each other, before walking out.  
She was left alone, in a half-ship half-house. With a weird-looking fruit. She looekd at it, how much beli were they saying? One hundred? Two? But… What were they on about? Well, maybe the buyers wouldn't mind if she took one bite? The other person got to be invisible! She took a small bite, and instantly recoiled. "Oh yeah, miss? If you take a bite of that you'll get pow-oh. You already did." Said the invisible fruitee. "Yeah, you won't be able to swim, but you'll change into.. A bat-thing. Also, you can't sell the fruit anymore and its worthless unless you die. Ciao!" He said, walking off. 
What. She felt pain, were her teeth… Growing? 
She went to her cupboard, she held many things over the years, and she intended to reverse-engineer them. She found the spikes that she could toss on the ground and people would step on them, giving them pain. She prepared a bath, and nearly drowned after submerging herself, only surviving by the skin of her teeth by meekly tugging at the chain. She found the small bombs some other guy used, it seemed to be made of an exploding substance, which was ignited. 
She got to work. Outside, she was picking up large round shots when she saw one in a bush, she picked it up and immediately felt weak, she brought it into the longhouse and placed it upon the table. Then, one day she just stopped. She forgot about her family, and of her village. She set everything down, she walked to her village, taking all of the beli the pirates had taken. People noticed her coming down the steps, and a large crowd gathered, so many people. She didn't enjoy crowds anymore, she didn't even know them. The only people she knew anymore were dead, and she didn't know them.  
They were beaten up once in a while, they were beyond hope, but were restored. However, they didn't know death. They didn't see it up close or have blood splattered across their clothing, they didn't see men and women get shot right in front of them, she couldn't go back. She didn't want to go back, she could hardly even remember who her parents were. She left the large sack of beli that she had to cart with a small carriage and went back up to the deserted pirate-town, not looking back. She heard cheers as they realised what it was, but she continued to walk. She didn't want thanks, she didn't want to rejoice, and she didn't want to partake in celebration. Just seeing people happy was enough for her, and she would do so from her overlook. 
She went back into the house and settled down for a couple of years, after figuring out that the chunky piece of wood was a crossbow, she began to work on her aim. Guns were efficient, but there wasn't much you could do with them outside killing or maiming. She began to customize the bolts, and make more of them. She remembered the thing that made her feel weak, she smashed it after many a trial and error, and placed the shards onto the ends of her bolts, maybe if they made her weak, it'd make others too? She rarely used her devil fruit powers, she didn't even know how to use them.  
Finally, after years of tinkering, customizing her lair (the longhouse) and her kit, she finally decided to set out in the world, the longhouse was where she would keep her treasures. Though she walked away from the villagers she brought the money back to, it was… Satisfying to hear their happy cheers. She didn't want anyone to be slaves any longer, she will bring forth justice, even if the marines do not. 
She realised, Fiora. The young girl didn't really exist anymore, it has faded into the depths of her mind. "Fayde." she whispered, the word just rolled out of her mouth.
Abilities
:
.Aiming: Proficient with her hand-crossbow, she knows the range of her crossbow and where she has to aim in order to hit someone, compensating for wind and so forth.
.Deductive reasoning: she can put two and two together.
.Climber: In order to reach the rooftops, she learned how to climb up houses.
.Roof running: one wrong step and you could fall off, she's learnt to avoid that.
.Forensics: She can find fingerprints on a corpse, or on a gun/bullet etc.
Inventory
.Hand crossbow, kept on her right hip.
.Three quivers. (Each holds about fifteen bolts). Two on her back and the other on her left hip.
.Caltrops. (In a back next to hip-quiver)
.Cherry bombs. (Three each thread, next to crossbow)
.Handcuffs.
Weapon
: Hand-crossbow.
Weapon Description
: Made of a dark kind of wood and metal, her crossbow is small, and can be held in one hand. This sacrifices reach and power for speed in both reloading and holding.
Weapon Special Abilities
: The bow-part of the crossbow can retract into itself, so it looks like a chunky bit of wood, and can be placed upon her belt. The crossbow isn't what sets it apart from others, apart from its size. What she uses is a variety of bolts, they're small so she can carry a lot of them. 
Normal bolt: Not as large as a regular crossbow bolt, but it can punch through light plate and leather.
Seastone bolt: She doesn't have very many of them, but unlike others they're shaped like an arrowhead, so it's more painful for the target to pull out.
Rope bolt: It has a thin rope attached that can sustain her weight. Also, the bolt is like an arrowhead, except with additional parts around it, so it doesn't fall out while she's in mid-air.
Smoke bolt: Filled with smoke pellets, it detonates them on impact.
Pepper bolt: Same as the smoke one, except it adds stinging sensations to the opponents' eyes.
Explosive bolt: Sharp part is instead a small sack filled with gunpowder with a fuse, she lights the fuse then fires it.
Flaming bolt: She gets a bolt slathered with oil and sets it alight, firing it.
Oil bolt: Either used to compliment the flaming bolt or to create a slippery surface for people to trip on, it splashes oil.
Weapon History
: 
She found it from the body of a dead bounty hunter, along with a bunch of mini-bolts. She replicated them and added versatility with the addition of 'trick bolts'.
Power Level Information
Character Strength
:  Trained
Character Speed
:  Advanced
Character Resilience
:   Proficient
Character Dexterity
:  Expert
Devil Fruit Information
Devil Fruit Name
: Batto Batto no mi model: Vampire
Devil Fruit Type
: Mythical Zoan
Devil Fruit Mastery Level
: Level one.
Devil Fruit Abilities
: The fruit allows the user to turn into a vampire/vampire hybrid.  When in hybrid form, the user takes on the appearance of a half bat half human, sporting wings and a purple complexion upon the user's face around the mouth, cheeks starting at the nose up. Furthermore, the user's arms become longer in order to accommodate wings. The user's ears also become much longer.  
As a normal human, the user has sharp red claws and can dissipate into a cloud of red mist into a different location near to where they dissipated. While they can drain people of their blood, they cannot yet use it to its full potential, only use the blood in order to power their abilities. (I.E, they need blood to dissipate) The user doesn't appear in cameras or reflections, however they do have a shadow. The user can also summon a red shroud to cloak themselves (soften blows, etc) 
As a half-vampire, the user can fly, drain people of their blood to make them age and weak and difficult to fight in. Furthermore, the user has mild control over minds, such as telepathy. Drinking people's blood allows them to regenerate mild injuries, such as cuts and the like. While in this form the user gains enhanced senses, strength and speed.  While as this, the user can also hypnotize people into doing what they want, this requires prolonged eye contact, the user makes a suggestion and the victim is more likely to agree, like a milder form of jedi mind trick. 
While as a full vampire, the user has dark red glowing eyes and resembles that of a giant, humanoid bat with claws. The user has the full abilities of a vampire, allowing them to turn into a swarm of bats to travel or fight. When the user drinks blood in this form, the victim can be made a thrall. This would give them the inclination to have an overall good standing with the vampire, the worst enemy can become the best friend. Or the victim could just become a slave to it, depending on the vampire's experience in the matters. 
Note: The red mist attacks use up a lot more blood than the transformations, since it's using them all at one go, rather than slowly draining it. 
First level: 
As a human, the user gains vampire fangs, with these the user can drink people's blood to fuel their abilities, most notably turning into their hybrid/vampire form. As a hybrid, the user can fly, dissipate into clouds of red mist and appear a couple of feet away, taking a post to solidify. This uses up quite a bit of blood, however. Although this is one of the more useful abilities to start with, it isn't without cost, as the user can only change into the red mist for one turn, and furthermore uses up the blood that they drank, having turning back to their human form, the user must then drink more blood in order to regain hybrid/vampire form. Both forms give the user large amounts of strength and speed. The user also gains enhanced speed and strength while in both forms, in the vampire form the user can fly, and regenerate small wounds from sapping blood.  In order to turn into a hybrid/vampire, it takes half a pint throughout the transformation, like fuel. Turning into blood mist requires one whole pint of blood to use.  
Second level: 
The user can now store up to two pints of blood from a victim. The user gains more speed and strength from being in hybrid/full vampire mode. Furthermore, drinking blood in both forms can heal larger wounds. Drinking blood while as a vampire can make a victim his/her 'thrall', the version where they suddenly become the best of friends. The hybrid vampire can now communicate telepathically, while the full mode has heightened senses. Human forms can now drink blood through their fingernails as well.  
Third level: 
The user now has full access of all of the powers of a vampire as mentioned before. The user can store up to three pints of blood. Thralls can now become slaves, like traditional vampire thralls. In the full form, the user can now transform into a swarm of bats for a maximum of two posts before having to re-form. Each bat represents a part of the body and it being injured would also injure the body part as well. The thralls are kept under control as long as their resilience is weaker than the vampires. Also, drinking blood now can heal more serious wounds, such as impalement, doesn't work with decapitation or stabs through the heart, however. The hybrid form can (with prolonged eye contact) hypnotise people into becoming more prone to agreeing with them. Furthermore, the vampire in the full form is more resilient, stronger and faster. 
The hypnotizing someone requires a higher resilience on the behalf of the vampire.
Devil Fruit Weaknesses
: The user must continually suck blood in order to gain access to its hybrid/full form. Furthermore, while the light doesn't kill/destroy the vampire, it does cause them discomfort, and can lead to sunburns. Other than that, standard devil fruit weaknesses.
Combat Information
Unarmed Combat
:
She doesn't enjoy getting into close-quarters combat, but her attacks rely on speed and not getting hit.  
Rendon: Three punches toward the opponent (area depends on size) and then an upward jumping kick to their upper body. 
Sari: Sweeping backwards kick to their legs, she's crouched. Used to unbalance opponents so she can get to a safe distance.
Weapon Based Combat
:
Plan of Attack: Attack.
Devil Fruit Based Combat
:
Plan of Attack: Attack.
Combo Combat
: 
Oil bolt/Fire bolt: She hits the opponent with an oil bolt, drenching them. She gets both the oil and the opponent alight. 
Pepper bolt/Oil bolt: The opponent is left sneezing and on the floor. 
Rope bolt/flying: She feeds on the victim and then wraps a rope around him/her and flies to the nearest marine HQ.
Haki
:
Last edited by Vaetric on Tue Jan 06, 2015 7:10 am; edited 3 times in total
Collecting on the Stat Points
Stats been increased:
+1 Strength
+1 Proficient
+2 Speed
Approved
Unless stated otherwise
Admin





Posts

: 1531


Join date

: 2013-12-26


Age

: 28


Location

: Under your bed




---
Permissions in this forum:
You
cannot
reply to topics in this forum