Welcome to One Piece: Memories
Greetings & welcome to One Piece Memories a place to create memories, make friends & sail the sea. You can take whichever path you choose from a life of justice to a life of piracy and anything in between. Have fun upon the deadly seas that await your arrival.

---
---
"Drip, Drip, Drip.."
Name
: Johnny Creek
Epithet:
"Ocean's Nightmare"
Age:
41
Species:
Tigershark Fishman
Appearance:
Creek stands at eight feet and has dark blue skin which is patterned with black stripes. His skin also bears some scars which he gained in his past, the most noticeable scar runs across his chest in a horizontal manner. His gills are located on both sides of his neck and his eyes are a chocolate color. Creek tends to wear long baggy trousers which reach down to his big black boots. He has long, neat black hair which ties in a ponytail, the hair reaches down to the fin on his back. Just like any shark, Creek has razor sharp teeth which can cut through almost anything. A black top hat sits on top of his head.
Personality:
Creek is an aggressive person and will strike down anyone who disagrees with his rules. Especially humans. His hatred for humans is very strong, the mere sight of one will make him annoyed. He sees humans as prey and refers to them as "The Lower Class", he believes that one day the fishman will over the world and that the human race would be extinct. Creek isn't a joker and is not a big fan of them either so you won't find him trying to crack a joke.
Stats:
Strength: Lethal
Speed: Advanced
Resilience: Trained
Dexterity: Average
Last edited by FroYo on Sat Apr 19, 2014 2:00 am; edited 1 time in total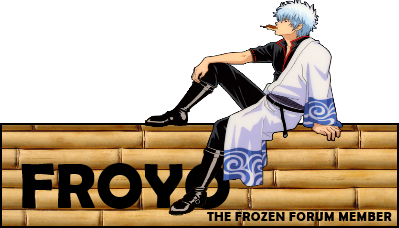 " Pft, crews are for people who are crews and cheese pls ty"
- Words which ring with truth, spoken by the great Vaetric[/size]
Moderator





Posts

: 714


Join date

: 2014-01-06


Location

: In a world known as the Internet




31 year old octopus fishman
---
Appearance:
The 31 year old octopus, Hatch, is fairly large at 6 feet yet somewhat small for a fishman. His skin tone is a brick red. Hatch has eight appendages (six arms and two legs) and an octopus-like face. He has a muscular build and has suction cups on his six arms, which he can use to cling on to walls. While most fishmen have webbed hands, octopus fishmen and women do not. He wears white and navy striped pants meanwhile he wears a white tank top with blue as the secondary color at the cut offs.
---
Personality:
Hatch is a cocky guy, who is overconfident in not just his own abilities, but his entire race as well. He is also prideful. His mindset is fishman are superior, and humans are arrogant pieces of trash who need to learn a lesson. The fishman also tends to exaggerate and change stories, like a gossiper. Not only does he change stories, but its almost as if he has selective hearing. If he hears a story about a fishman who was causing trouble and was killed by a marine, all he would hear is a fishman was killed by a marine. Then he would go off telling people how human's are heartless scums who pick on the weak........
---
Combat information:
Strength: Average
Speed: Advanced
Resilience: Average
Dexterity: Lethal
6 Shot Hatch is a gunsman. He carries one gun for each hand, and his accuracy is quite scary considering he is shooting with 6 separate pistols. He uses 6 revolvers with 6 bullets each. Those are 36 potential bullets in your body.



Posts

: 217


Join date

: 2014-03-01




Similar topics
---
Permissions in this forum:
You
cannot
reply to topics in this forum