Welcome to One Piece: Memories
Greetings & welcome to One Piece Memories a place to create memories, make friends & sail the sea. You can take whichever path you choose from a life of justice to a life of piracy and anything in between. Have fun upon the deadly seas that await your arrival.
Page 3 of 3 •

1, 2, 3

Seeing the doorknob turn slowly Umi kept a tight grip on her spear. There was no way she was going down without a fight. Even if they had guns and she just had her spear. But a true warrior never gave up just like that.

But she didn't feel the smell of gunpowder when the door opened. And she did not see the barrels of guns. Also she thought that when people were searching through buildings they didn't really open doors too carefully if they were out to hurt people. At least she would have kicked the door open and burst in, to take her victim by surprise.

As she saw the bartender holding the serving tray and his hands in front of him Umi lowered her spear a bit as he seemed to mean no harm but still kept her guard up. He had seemed to know her target before and when it came to that skinman she was not taking anymore risks than she had done already.

Making eye contact with the bartender Umi gave him a suspicious look but didn't move. Looking down at his lips a few times to see if he was going to speak but also staying in a position that showed she was ready to attack though it seemed unlikely he was going to get aggressive.

But you never knew.



Posts

: 54


Join date

: 2014-01-12



Having brought down Faye it was time to make his escape. Dashing towards the door knowing full well that reinforcements would be on the way Lero could hear the sound of armour clashing down the stony corridors.
Looking around he knew that charging down the stairwell would be suicide due to the amount of guards making their way in, his best plan of escape was to leap from the window.
Kicking open the door to the next room Lero found himself staring into a study. A large book shelf which reached around two walls and a desk opposite. And just opposite the door was the exact thing he was looking for.
A window.
Running towards it Lero hoisted a leg up and slammed it into the glass shattering it instantly. Falling out and through it with the shards of glass the sound of charging soldiers begun to fade away. Falling down from such a height Lero held a look of steely determination.
It was clear he'd made himself a target now and all of the marksmen would have their aim on him.
Turning swiftly and raising their rifles the marksmen locked on to Lero and squeezed the triggers sending out a dozen lead projectiles to bring Lero to his untimely end.
Lucky Rabbit's Foot: Air Hare
Kicking off of the air and from the tower Lero shot out of the death zone into the clear. Continuously using this technique to propel himself from the next series of gunshots he managed to evade the gunfire.
Kicking off towards an alleyway Lero landed with a loud thud. Catching sight of his location the marksmen rushed to the alleyway to catch Lero the bastards.
Four either side rushed to either side of the alleyway whilst four more remained on the rooftops. It was time to catch the fucker who'd just come from Faye Kageyasu's tower. Arriving the guards discovered a man hole with no cover.
As one of the men approached holding his rifle steady he worried what might happen next.
Peering down all he caught sight of was the sewer below as a powerful stench blew up in his face.
Lero was on the run and making his way through the pipes towards Spinner's Folly.
Grinning showing his toothless grin the man watched as Matt was lead down the corridor. Walking past the cage, Matt couldn't help but glance over them and gulp. He had to admit he did feel a little terrified, but also excited. This was a mission working under Captain Lero where he was being trusted to bring down a serious criminal worth 35,970,000 Beli. It wasn't everyday you were rewarded with something like this.
Following the man past the cage Matt was taken into a room where he was no longer surrounded by the audience nor could he even hear them any more. Gulping once more he felt something might be wrong.
"Wait here until we call for you."
the large beast of a man said to Matt before he made his exit from the small cubicle with damp walls and moss growing in the corner. As he exited the room the door could be heard locking shut from the outside.
Hearing this Matt approached the door and tried opening it. Realizing it wouldn't open his eyes widened and his head begun to think all sorts of things from 'I've been figured out!' to 'Oh no what's going to happen?!'
Beyond the door however the large creature shouted to the man in the cage.
"CLOWN!"
Turning and revealing his face Icarus Clown the mad man pounced over to the cage where the voice had come from. Exhaling from his cigar into his face, the beast did his best to ignore the smoke and just take it.
"WHAT?!""We got you another fight."
Placing hand beside his ear and gesturing he couldn't hear him Icarus leant in towards the brute.
"What was that?""We've got another fight lined up for you-"
Exaggerating this gesture once more Icarus's eyes bulged a little.
"WHAT?!""Another figh-"
Before he could even finish his sentence a tightly clasped hand was wrapped around his throat and crushing it. Struggling to breath the brute was lifted slightly off the ground by Icarus Clown.
He'd ripped through the cage and snatched up the brute by the neck. Choking him he grinned at him as he suffered.
"We've another fight for you, SIR!"
Nodding as quickly as he could multiple times the brute's panic only became funny as Icarus suddenly cast him into the ground and pounced through the hole tearing it open slightly bigger. Landing upon the large man's chest he sat with a leg either side of his torso and launched a tightly clenched fist into the large man's face.
"Sir"
Hitting him again Icarus picked up the speed and was suddenly swinging both fists directly into his face from either side quicker & quicker all the while he started screaming louder and louder.
"Sir, Sir! Sir! Sir! SIR! SIR! SIR!

SIR!

SIR!

SIR!

SIR!

SIR!

SIR!

SIR!

SIR!

"
Seeing Umi lower her spear the bartender sighed in relief. He was happy to see that she wasn't going to attack him. He lowered his tray and started to speak to her.
"T-thank you. You saved my bar from that tyrant. I didn't ever think anyone would have the braavery you've shown to stand up against someone like him."
Gsturing for her to re-enter the bar the bartender made his way over to the bar and started mixing a drink. Mixing a few other drinks together he finished it off by pouring the drink into a tall glass.
Sitting in a thin tall glass was a black looking liquid with a plant floating in the top of it. The plant had six green leaves poking out in each direction as the base with a pink | orange flower on top. As the plant floated over the top it coloured the drink blue. The drink began to swirl as it changed blue in colour.
Offering it to Umi the bartender smiled.
"Here, its as a thank you for your help."
genuinely thankful the bar keep felt Umi deserved a nice drink that was non alcoholic but energizing. The drink itself was loaded with sugar, but the flower made the drink more of a healthy natrual energy drink. It diluted the drink and lessened the effect of sugar.
At this point the bar keep begun to think about recruiting Umi into his band of revolutionaries hell bent on over throwing Bodi. Looking towards the basement floor then Umi he took a second to think about it and waited to see her next actions. If she would join the though, it would make their assault on Bodi easier. She could guide them and really be a force to be reckoned with. Others who'd gone against Bodi hadn't been as lucky as she.
Noticing she was still bleeding however the barkeep Reached behind the bar. Reappearing and rushing around he catered to Umi.
"I've just noticed how bad a wound that is you've got there. You need to get that thing patched up."
Rushing to Umi's aid, the barkeep quickly poured out some rubbing alcohol onto a clean rag and tried to clean her wound before he would try wrapping it up in bandages and making sure she was ok. This woman had almost suffered the worst from Mr Bodi, but here she was still alive.
Seeing that the bartender wasn't going to attack her made Umi let out a sigh of relief as she lowered her spear completely. Feeling like a huge weight had been lifted off her shoulders Umi allowed herself to let her guard down if only just for a while.

Seeing what he said from reading his lips Umi felt a sense of pride swell up in her chest. She was brave according to him, just like a true warrior should always be. Feeling happy she had helped him Umi had no problem waltzing out of the broom closet and heading to the bar.

Propping herself up on a chair she happily accepted the drink after admiring it for a while, staring in awe with her mouth slightly agape as it turned blue.

AMAZING!

Smelling it she smelled a lot of sugar but no trace of alcohol. Good, she couldn't drink while on duty anyways. Giving the bartender a nod and smile of thanks as she took a sip, oh yeah that was pretty good actually!

Savoring the drink's taste Umi then turned her attention to the bartender again. Keeping an eye on his lips as he spoke. Seeing him talk about her wound made her look down at it and at the bloodstained cloth she had around it. Well that top wasn't going to be useable anymore at least.

Peeling the sticky cloth away Umi jumped a bit as he started cleaning the wound. It wasn't that bad. She had had worse. Okay it was pretty bad and if it didn't get cleaned she'd probably get an infection or something else nasty so she simply kept sipping her drink as she allowed the bartender to tend to her.



Posts

: 54


Join date

: 2014-01-12


Age

: 15


Location

: Mostly my bed



Sprinting towards Spinner's Folly, Lero quickly managed to trudge through the filth that littered the pipes. Behind him he could hear echoing throughout the tunnel the voices of a group of guards who were eager to get their hands on him.
As Lero ran down the pipe he caught sight of the light that peered down as he passed by and did his best to ignore it. Reaching a sign that read. 'Spinner's Folly Sewage' Lero grinned.
Reaching a manhole he used his
Lucky Rabbit's Foot: Air Hare
to launch himself upwards and his other foot to kick the cover out of the way.
Landing atop the ground and not back in the sewers the man hole cover came crashing back down over the hole. Looking around Lero smiled. He was definitely in Spinner's Folly now.
Feeling nervous about his current situation, Matt waited and clenched his fists tightly waiting for the door to be unlocked. As a new gentleman approached the door and unlocked it Matt looked towards the gentleman a little surprised.
"What happened to the other guy?""You'll see soon enough."
the man replied as he gestured for Matt to follow him. Opening the door to the cage Matt caught sight of the hole in the cage and the body of the previous man. Looking at the bloody beast standing in the middle Matt gulped.
Before he knew what was going on the door to the cage was slammed shut behind him and the beast of a man turned to face Matt.
This man was Icarus Clown.
Finishing dressing the wound the bar keep stepped back smiling and tossed the piece of clothing she'd use in the bin.
"That won't b much use to you now."
he said as the bar keep refilled her drink and slid it across to her.
he started to wonder if she really was the golden soldier they'd been waiting for the arrival of, the soldier that would set the all free, the longer he spent looking into her eyes the bar keep's smile just grew and grew, probably creeping Umi out a bit too. Finally though he couldn't hold it in any longer and had to speak about it to her.
"I have something important to tell you."
waiting for Umi's response, the bar keep reached under the bar and pulled out a sheet of paper, sliding it over the bar top to Umi he smirked.
The flyer read:
Then below that it had a picture of body with a snake wrapped tightly around hiss wrists & neck with an jaw and two teeth bending right back like a hook, ready to bite Bodi.
Looking back at Umi once she'd finished reading it, he asked her.
"Would you honour them by leading the charge?"
Last edited by Deviant on Fri Aug 01, 2014 6:33 pm; edited 1 time in total
Matt was having mixed feeling about his current situation. He was happy that he had finally found Clown but he was also a little worried since Icarus was covered in blood... which most likely wasn't his. He was locked in and the audience were so loud he could barely her himself think. What was he gonna do now? Obviously he needed to capture the man, but what was up with this cage?

He was being forced to participate in a caged brawling match against a wanted criminal. Matt took deep breaths. Caged match or not, the man in front of him was a criminal and his job was to capture criminals. He wasn't gonna blindly run into him though, he was gonna feel him out first.

"Yo tough guy, you gonna throw a punch? Or are you gonna stand there like an idiot?" Matt said.

Matt wasn't used to making comments like those but he had to in order to get this man to make the first move.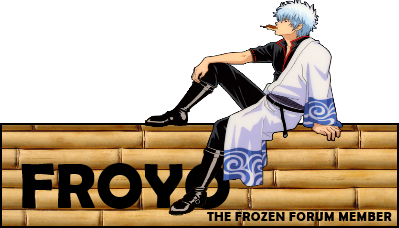 " Pft, crews are for people who are crews and cheese pls ty"
- Words which ring with truth, spoken by the great Vaetric[/size]
Moderator





Posts

: 714


Join date

: 2014-01-06


Location

: In a world known as the Internet



Sipping the now refilled sugary drink Umi bit her lip slightly as she watched the bartender throw her now blood stained top away. Now she had gone topless before but that was when she was alone or after a long bath when she couldn't be assed to but on clothes.

Shifting uncomfortably on the chair she was sitting on Umi's gaze still didn't falter from the bartenders lips that were crooked up into a smile.

But then his lips moved.

Setting her drink down Umi's eyes shifted from his mouth to his eyes with maybe a hint of worry as he said it was important. Was he going to ask her to take out more people than her target? Was he going to tell her about his wife's infidelity and that he wanted revenge on her?

(She really had been reading way too many dramatic books lately)

But instead of any of her imagined scenarios coming true he put up a flyer that read "DOWN WITH BODI" didn't he know she was here to take Bodi down? Did she have to explain it to him? That would be hard considering she had left her notebook behind.

But then she read the whole flyer and realization dawned on her. So the government weren't the only ones who wanted Bodi gone then. Ancestors, this guy was a bigger problem than she thought.

Looking up at the bartender Umi caught something about leading a charge and felt pride swell up in her chest. So of course she straightened her back, smiled slightly and nodded furiously. Even though she wasn't sure how big the charge would be nor who would be a part of it but it would still be an honor to lead it.



Posts

: 54


Join date

: 2014-01-12


Age

: 15


Location

: Mostly my bed



It was time to find Bodi & Umi, looking around him he could see a few people's gazes looking over him and decided to take cover in an alleyway. Darting into one of the dark dank alleys he leaned against the wall. He'd given Umi the job of finding Bodi, but he knew nothing about Bodi and very little about Umi.
Deciding a local watering hole was the best place to gather information, Lero stepped out into the street and made his way to a local bar with the hopes of finding himself some intel on Mr Bodi the flesh man with a blood lust so bad he made vampires looking pathetic.
Looking among the citizens who walked past him from left to right and so on, Lero managed to slip between the crowds of people easily without having to worry about his arms. Finding the bar street, Lero stepped up to the first one.
The Dozy Drunk.
Kicking the door open Lero took his first steps inside in the hopes of getting his hands on Bodi or meeting up with Umi.
Cracking his knuckles and looking at Matt, the man known as Icarus Clown turned to face him and turned his head to the right then the left cracking his neck. Stepping up to him, Icarus stopped inches away from Matt and smiled exhaling, allowing his cigar stained breath to flow over Matt's shoulders & towards his nostrils.
Tightening his right fist so it became similar to a small stone, Icarus directed the small punch towards Matt's stomach with the force of a small elephant behind it.
Seeing her light up and her head nod, the bar keep smiled and reached towards the door that allowed people behind the bar. Gesturing for Umi to come back, he then reached for the next door behind the bar and opened it. Opening the door there was a long corridor and a door at the other end in which was the central base of operations for the revolution against Bodi.
Handing Umi a pencil & paper from behind the bar, the bar keep had caught to the fact that Umi didn't seem to be able to speak. Handing it to her the bar keep gestured towards the door down the other end of the corridor.
The sooner Bodi was gone the better.
Page 3 of 3 •

1, 2, 3

Similar topics
---
Permissions in this forum:
You
cannot
reply to topics in this forum