Welcome to One Piece: Memories
Greetings & welcome to One Piece Memories a place to create memories, make friends & sail the sea. You can take whichever path you choose from a life of justice to a life of piracy and anything in between. Have fun upon the deadly seas that await your arrival.

General Information
Name
:  Evelyn Kinsey
Epithet
: The Knight
Age
: 29
Gender
: Girl.
Birthplace
: Grand Line, on a boat.
Species
: Half-Giant.
Orientation
: Right Handed.
Crew
: ~
Ship
:
Occupation
: She can cook… A little.
Rank
: Lieutenant
Bounty Collected
:
Only applicable to characters who collect bounties.
Allegiance
: Marines / East Castle.
Dream(s)
: To fulfil her debt to the marines and return to Twin Castle.
Character Information
Flag
:
Standard marine flag.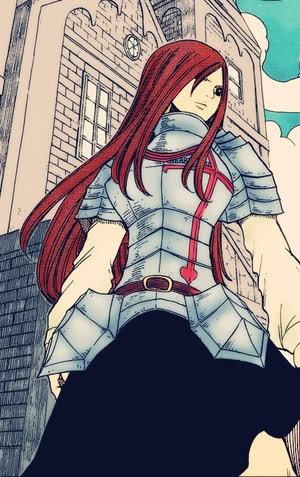 Appearance
: One of the first things people would notice about Evelyn is that she is… Large. Huge in comparison to a human, yet still dwarfed to giants. Standing at somewhat twenty seven feet tall, she towers over even most kinds of fishmen. She is a natural red-head, her hair flowing down to her waist. She has a relatively normal body structure, therefore her descent must not be from Elbaf. Due to her large size, she normally sets up a tent in the middle of the deck of a ship, in which she would take residence in, because she could not fit through the doors or in the rooms of the transport. Underneath her armour she wears a standard marine uniform jumped up a couple of dozen sizes. The breastplate itself has a neck protector which has 'MARINE' emblazoned upon it. She also has a cross upon the left side of her chest armour.
Personality
:  She seems to have a rather protective personality, much preferring for her to take a blow rather than a friend or even a total stranger. Due to her birthplace she would also break down due to a sad story or event, in contrast to the people of Twin Castle however, rather than crying she just becomes depressed (much like Foxy when someone insults or brings him down).  If comforted, she'd recover in one post, if not, then three. This is often quite troublesome during a battle. She dislikes being lied to, and would often hold a grudge against someone whom has brought any kind of falsity or embarrassment to her.  She longs to wear skirts or dresses, causing her to become jealous of anyone (woman or man) whom would be wearing one. 
Should one of her friends be cut down in front of her eyes, rather than going on a blood-thirsty rampage in which all must die and therefore the end of the world which will shatter into a billion pieces with drowning of thousands of children into the blood of their parents in which you'd expect, she'd simply become depressed, taking around five posts to recover, regardless of comforting. However, she would try –with all her heart- to carry out the person's last wishes (if any) beforehand. Moreover, despite her belief that she is a maiden, either by her knightly thoughts or some inner fetish, if she fails at something, she would often ask to be punished for her failures.  
She prefers to not stomp around unnecessarily, especially in towns. She regards Devil Fruit eaters as witches or warlocks.  She prefers an up-front fighting style as well, having use of a sword and shield.
Character History
Background
Blood, sweat and dirt. Rain smoke and fog. Wood gold and stone. Twin Castle, an island engulfed in war. War insatiable and without end. The blood and festering corpses feed the ground. Nearly all of the mainland is perfect for farming, to grow crops that reach higher than any human male or female, and yet no seeds are sowed.  Scythes that should be used against wheat instead cleave heads, for it is an island engulfed in hostility. The three sides have more honour than reason, they look to others than themselves. Knights and Samurai, and odd mix to say the least. Upon the western side a wooden fortress stood stoic and silent, while the east host banquets for their soldiers.  The third side, a pirate armada seeks to take both cities for their own. West and East castle however, stood upon twin mountains that stretched up farer than their cannons could reach. The pirates were not important, they never were, generations slipped past for all sides, pirates replaced others as they heard of the 'invincibility' of the twin castles that stood high and proud. Captains replaced captains, mutiny rang out, slaughtered by either side.. No one could upset the balance, and no one ever shall. 
A massive ship passed by the island, its occupants larger than any of those upon the island.  It was being chased, the pirate armada had set its eyes upon its treasure, despite there being none. There were a few people in it, a simple transport ship.  Although they were large, they did not have the size of their fathers or grandmothers, both larger and smaller. In fact, they had children of their own, clutched within their arms. A dozen mortar shots had destroyed the frontal part of the ship, causing the mother to become unbalanced and fall onto the other, broken half. The others cried out, and decided to fight back. They jumped into the water and swam toward the pirate fleet. Neither side was seen again. The mother began to notice that the part they were on was sinking, so she slipped into the water and left the babies onto the practical raft. In the storm, she was lost. The tide carried them to Twin-Castle. Men came, dressed in black. Their true colours were unknown, but in the night they put them both into the two separate cities. 
"Hear ye, hear ye, brownies have struck once again in the Kingdom!" A crier ran down the streets of East Castle.  "The child hath thusly been brought to the castle for judgment!"  It was another terrible day for both East and West Castle, they had children swapped with abnormalities, however, this was a completely different case. The baby was huge, massive compared to a normal human baby, around the size of an adult, in fact. The phantom child simply appeared in the middle of the city. The king climbed the steps of the court, before looking at the baby. "Oh, that one's large." He said dozily, he held a banquet the day before, and most of the Royal Court was drowsy.  "Send him to the army or something, I need to drink this off." He waved his arm, before heading back down the steps. "Ah… My lord? It's not a male-" one of his attendants tried to tell him, but he had already left the room. Of course, royal decree is law, but… It was a baby, it was huge, and she was female. "Ah, send it to the brownie encampment." One of the Lords suggested. "The King's word is law, but we could always send her to the army later, despite her gender." 
And with that, she was send to one of the encampments for children in which were given to the kingdom by brownies, strange people were indeed there, but mostly fishmen and Merfolk. She was placed in a tent in which previously was held by a rather large man in whom was the offspring of a giant blowfish fishman and a human, he of course, fell in battle. Most people from the brownie encampment are sent to battle, generally used as fodder while the soldiers of East Castle march onwards. Ironically enough, children whom have been brought by the fairies in which look human seem to still be kept in East Castle. Indeed, she fitted right in with the Brownie encampment, learning fundamentality of life such as cooking, cleaning and so forth for a few years, before, like most people of the camp, being taught to fight for some instances, she seemed to stop growing at the age of twenty five, they had taken her measurements and had sent it out to the local blacksmith, who spluttered over how much iron they would have to use, therefore, he sent the order out to the town blacksmith, whom, it turn, spluttered once more. 
_ 
The people of the World Government, the Marines, always seemed to be sending envoys over to the castle,  trying to gain a hold upon the Islands' riches, though they seemed to want to be on the good side of West Castle, which always seemed to infuriate East Castle, which was probably because the superior metal of their counterparts. They had uniforms, wore mostly white with caps, and they always seemed to be on edge when they passed through the brownie encampment. As if they would pounce upon the marines at any moment, of course, that never arouse. Some men even approached her to try to persuade her to join them, but she always refused, her loyalty was to her King. It would take a large favour for her to join them, and she doubted that would happen any time soon,
_ 
Eventually when she reached twenty six, she was drafted into the brownies' militia force, in which was a step below East Castle's regular army, she was given a sword, shield and armour. The armour had been the source of criticisms among the blacksmith, as it used so much iron to make, yet they seemed happy with the result, thinking of it as one of their finer works. The brownies did not seem to get such armour, however, and it appeared that one of the only reasons she got the armour was that she looked human, though was just…. Large. Another reason was that there seemed to be a double of her on the West side of the Isle, and, unlike East Castle, they actually used their brownies like soldiers.   Being in the brownie militia, she was generally given more mundane jobs than others, such as cleaning the streets and tending to East Castle's army, in fact, she didn't really understand why it was a militia at all. However, whenever the chance she got, she would listen to the kings' speeches, upon which there must be an end to everything, but not for East Castle. Years after, however, there were tales from battle weary knights of a large samurai, in which they compared his size to Evelyn's. He would enter the fray like a battering ram, crushing all within his path, and laying waste to many a skirmishes.  
Of course she was sort out to combat this problem; fighting fire with fire is generally the preference of the King. However, she was untrained in the ways of the Knight of East Castle. And their particular fighting style required years to train… To train for it. Ironically enough, for such a hot-blooded country, they had to sit down and be taught of the basics upon the technique, such as the Demeanour Conduit. That had taken them more than a year, the rest was hunting with other aspiring knights and learning other weapon skills, such as archery, which she had to skip because they couldn't make a bow big enough for her let alone the string, maces, axes and so forth.  Years past, before they were taught the techniques of the Knightly Bout, the unfortunate thing about the style, is that they tell you how to do the techniques before you are physically able to do them. However, there are techniques that can be used at such a low level, it was just that there were more high-level attacks than low-level, as such, she learned the Joust and Demeanor Conduit, which she could physically do.  She even created her own signature move with Knightly Bout, which was something only she in East Castle could do, uplift the earth upon people.  And then… It was time for her to face her counterpart. The march was long, but they eventually arrived upon the blood-soaked field that is the middle of Twin Castle.  A few hundred on each side, they clashed upon the already rouge battleground.  
Evelyn, like her male counterpart, slashed her way through the battlefield like a reaper, slaying men upon men before reaching their arch-nemesis. They clash, steel upon steel, as they fought each other. They exchanged blows that shuddered the ground, and rang in the ears of those in the facility. They were evenly matched, they fought for the better half of an hour, before growing weary of the battle, each had their own respective wounds, from wounds at their feet due to overly ambitious knights or samurai, to being hit by a large number of arrows throughout the battle, eventually, both sides had to retreat, though Evelyn and her nemesis continued their battle exhausted and weary, they both ignored their own defences to try to end the tiring battle, and both struck each other's heads upon the temple with the butt of their weapons, and both fell to the floor. The knights and samurai had already retreated, and it would take a while before they would return to the battlefield to pick the wounded, but another contender had already started to do so. The men in blue and white. 
She awoke to the sound of seagulls and the gentle cradling of the waves. She was bandaged all over, and seemed to be in a tent. She crawled out and found herself to be on a ship, much luck the pirates who would attempt to claim their island. However, this one was much, much larger. It moved slowly but steadily across the grand ocean, she couldn't see her home island in sight. Someone came up to her. He explained that she had been terribly wounded in the battle, and that only their medical research was able to save her. It was strange, all she could remember was gaining menial cuts, perhaps her nemesis had continued to attack her while she was down? However the case, they saved her life, therefore she pledged an oath of allegiance straight away, catching the man by surprise. They still had her armour and weapons, they were taking her to a tailor to get her uniform sorted, it seemed they had expected her to accept, though not so straight away. Hopefully she could return to Twin Castle when she fulfilled her debt to the ones in blue and white.
Abilities
:
Longevity: Due to being a half-giant, she has a much longer lifespan than the average human.
Roast Cooking: She knows how to cook on a spit.
Inventory
.Armour.
.Marine Uniform.
.Sword and Shield (fit for her size).
.Water barrel (5 feet in height, four in radius) on her right belt.
Power Level Information
Character Strength
: Intense.
Character Speed
:  Skilled
Character Resilience
:  Skilled
Character Dexterity
:   Skilled
Devil Fruit Information
Devil Fruit Name: None.
Devil Fruit Type: None.
Devil Fruit Mastery Level:  
Devil Fruit Abilities:
Devil Fruit Weaknesses:
Combat Information
Unarmed Combat
:
Ship Breaker~ Diving into the water without armour nor weapons, Evelyn swims underneath the opponents' ship and tries board or punch it from underneath, causing damage in the hull. 
Hand Prison~ Evelyn grabs the opponent and tries to constrict them by squeezing.  
Nullification~  Evelyn uncorks her "small" water barrel and pours it onto a devil fruit user. 
Nullified Prison~ Evelyn slams her water barrel onto the opponent, trapping them In water.
Weapon Based Combat
:
Knightly Bout:  Demeanour Conduit ~ Evelyn Places her left arm (with her shield) upon her chest, with her right arm and blade just over it, seemingly as a sign of respect. However, it is actually a channeling focus, in which to release tension in her body and mind, similar to meditation. This would make her less likely to succumb to fatigue during battle, both for the body or the mind.  It is generally an ability that is used in preparation for combat, and is therefore usable without having too much training upon the body. 
Knightly Bout:  Joust ~ Evelyn bounds towards the enemy, putting forth with a devastating stab, due to her strength from her half-giant heritage. Due to the amount of dedication to the single stab in which she would try to devastate her opponent, she cannot turn, hence its name, the joust. It is a rather simple stab, that can be enhanced as she becomes stronger, and therefore the only conventional Knightly Bout ability. 
Knightly Bout: Quadrilateral Earth Landmass ~ Knights generally create their own technique to be used as a kind of signature move, this is Evelyn's. She stabs her sword into the ground four times, afterwards she scoops it up like a spatula, before throwing it at the opponent.  Due to the size of Evelyn, this can be potentially lethal, due to its size in relation to humans. As it is her own signature move in the Knightly Bout, she can, of course, use it. 
Knightly Bout: Triangular Earth Landmass ~ Stabbing her sword into the ground three times, she scoops up the land and tosses it at people. This is a little quicker due to the points, therefore gaining less wind resistance. 
Knightly Bout: Airborne Aegis~  Evelyn throws her shield at the opponent, either up or down in order to stop them from moving any further or to trap them. 
Knightly Bout: Soul Rend~ Evelyn spends one post to prepare, warming up her muscles in order to use this ability (Demeanour Conduit).  After the conditions have been met, she swings her blade into the air, causing a wind slice toward her opponent. Needless to say, this technique is a little hard to escape due to her size, if she misses, there's also the chance that the opponent is drawn into the strike itself, tossing them about until the attack becomes lax over time. During the attack, she attempts to say some harmful words as she strikes. 
Knightly Bout: Trench Mark~ Evelyn slices along the ground with her sword, creating a "small" (for her) or large trench that she herself can hide in. The small trench can be used to stop people from passing unless they jump, therefore making themselves vulnerable.
Haki
: Not yet.
Last edited by Vaetric on Sat May 17, 2014 1:39 am; edited 1 time in total
I like her, although I want to ask to remove the lemon part from the devil fruit. if she doesn't have one cross it through. it was funny. but a sheet should be a bit serious.
Moderator





Posts

: 440


Join date

: 2014-01-18


Age

: 18


Location

: The comfiest couch



Moderator





Posts

: 440


Join date

: 2014-01-18


Age

: 18


Location

: The comfiest couch



Unfortunately the crew I made her for has disappeared, so I'd request a deletion, or placed in the archives for later.

Similar topics
---
Permissions in this forum:
You
cannot
reply to topics in this forum