Welcome to One Piece: Memories
Greetings & welcome to One Piece Memories a place to create memories, make friends & sail the sea. You can take whichever path you choose from a life of justice to a life of piracy and anything in between. Have fun upon the deadly seas that await your arrival.

General Information
Name
: Arrin
Epithet
: Red hand
Age
: 22
Gender
: Male
Birthplace
: Gyoson, East Blue
Species
: Human
Orientation
: Left handed
Crew
: -
Ship
: -
Occupation
: Gun for hire
Rank
: -
Bounty
: 10, 000, 000
Bounty Collected
: 0
Allegiance
: Pirate
Dream(s)
: Get killed by the most formidable foe that can be found.
Character Information
Flag
: -
Appearance
:
Lastly, he has no right hand.
Personality
:
Impulsive and competitive. Those two words aptly describe the most important aspects of Arrin's ungodly psyche. He makes decisions based off gut instinct if he thinks they will provide him with:
a) A formidable foe to train against
b) Money
This makes him not only an incredibly unstable character, but also unable to pledge his loyalty to anyone without cause. As someone who kills for business he is incredibly cold hearted towards his fellow man. Authority is something he has a problem with, seeing every form of it as being confining he is purposefully anti-establishment. Bushido was grained into him at an early age, an ideal which he follows intensely. In combat, he sees honour as a big part of the fight and will value dying to an honourable opponent. Arrin is however crude out of combat, never brought up by parents to know better. Thanks to his manners, he never gets invited to tea parties.
Even though the man is a cold, possibly sociopathic killer; he does have a sense of humour. This sense of humour revolves around cynicism and dark humour. Again: not invited to tea parties. On a more positive note, he is an incredibly determined individual. He will give his all in a fight if necessary, but not for self-preservation. His motives for how hard he fights are based on how challenging his opponent is. Laziness is a big of Arrin's demeanor. His slouch, his fighting style, the way he walks: all signs of laziness. This leads him to think of passion as something only for idiots who don't understand the world.
Character History
Background
Gyoson can be simply translated to "fishing village", an apt name for a fishing village. The general populace of Gyoson can be divided into 3 catagories which explain how life worked in Gyoson:
The labourers, the masters and the dead.
Anyone who didn't work, didn't eat. The system worked in the self sufficient village until the presence of Belli became a factor. When Arrin was 10, the village commercialised and became part of the "civilised" world. With this civilisation came currency and trade from other islands and villages. Labourers weren't as necessary to the economy anymore so the social hierarchy changed. This brought about the Ju no Samurai dojo.
The dojo quickly fell into disrepute as simply being a refuge for the orphaned and weak. The usual "yakuza-turned-pirate" cliche happened with the once docile Sakana Gang, who were given a thirst for money and power. The gang forcefully recruited those who sought refuge, Arrin was not one of them. He didn't come from a troubled background, but his years on Gyoson after it grew into a trading town were not easy. Master Inu taught him the ways of the ju no samurai, but he lacked the ability to pass on more than basic training. This left Arrin at the age of 13 with basic training in weaponry and bushido but no form of authority to mold him into a fine fighter or citizen. A loose cannon with a loose cannon is never a good combination.
The fact that he had no responsibilities or guidance led him to becoming a gun for hire. An easy way to make money was seen as a good way to make money, but the local authorities had improved since the days of simple fishing life. He was taken into custody on multiple occasions, giving the young gun a resentment for the only authority that was controlling him. Over 4 years he killed 25 people, something that he saw as simply a challenge: the fight being more interesting than the money. This leads a person to not only become dead inside, but gain a reputation. The reputation was bad, but there was need for such a reputation. People don't mess with a crew who has a hired gun, especially a dual wielding seventeen year old. Sakana Uichi pulled Arrin into their smuggling operation, which worked for a year.
That year was prosperous for the Sakana gang, but Uichi was old as fuck. Hirule resented Arrin for being his father's confidant and planned a coup d'etat to take the crew into his possibly oversized hands. Uichi was easy to kill, not being able to fight back due to his various ailments. Arrin was lured out to see on a ship full of mutinous crew mates, overwhelmed and captured where there was no escape. The local authorities had wanted to catch him for years but all attempts were unsuccessful due to the law enforcement being a joke. This is why they sought help from anyone who could competently hold a sword to catch the killer. Hirule used it as an opportunity to make an extra buck while getting rid of his enemy.
The Gyoson police department sought a punishment for Arrin, but the community was opposed to an execution. Being originally a simple fishing village, they held traditional ideas of exile and shame higher than those of corporal punishment. To sate the bloodlust of the more recent arrivals to the town, the GPD made a compromise. Exile and a game. A game where a wheel was spun to determine which extremity was hacked off. Anyone who bet correctly on the limb would get a percentage of the prize pool, or the limb. Losing his ability to use his practiced style of the "nitoryu gan" was a hard hit to his psyche. In the place of his right hand was now a stump at the wrist.
As with all hotheads it seems, his shame turned to determination. After being exiled from Gyoson the 18 year old was set on learning the ways of the world. There was more to life than one fishing village and the desire to break free from the constraints of the Gyoson's oppressive, traditional life had been festering inside of him. He spent four years travelling East Blue not only learning about the world, but also re-training himself in the basics of the ju no samurai to better fit the amount of hands on his body.
Juri Gaven won the Wheel of Limb Removal and chose to keep the hand. He apparently has a collection.
Abilities
:
Inventory
Weapon
: Flintlock Pistol
Weapon Description
: A simple, double barreled, breach loaded flintlock that has been weathered by the years.
Weapon Special Abilities
: -
Weapon History
: Bought by Arrin in a Gun Smith's store
Weapon
: Doglock Rifle
Weapon Description
: A cheap, damaged rifle. The rank and name on the handle were scratched out.
Weapon Special Abilities
: -
Weapon History
: Given to Arrin upon his fake enlistment in the Marines
Power Level Information
Character Strength
: Average
Character Speed
: Trained
Character Resilience
: Average
Character Dexterity
: Trained
Devil Fruit Information
Devil Fruit Name
: -
Devil Fruit Type
: -
Devil Fruit Progression
: -
Current Devil fruit Level
: -
Devil Fruit Mastery Level
: -
Devil Fruit Abilities
: -
Devil Fruit Weaknesses
: -
Combat Information
Unarmed Combat
: Erratic twisting and flinging of the body to inflict damage. Low damage but high mobility.
Weapon Based Combat
: Pistol for rapid fire (twin barreled). Rifle gives a long range advantage, but is mainly used in melee combat in a bo-staff fashion.
Devil Fruit Based Combat
: -
Combo Combat
: A style that (if it had a name) should be called "Rifle bo staff and the Erratic Stump". This is a style where Arrin's melee and weapon based combat combine to create a highly mobile onslaught.
Haki
: -
Completed Threads
:
Last edited by Lone on Mon Jan 05, 2015 11:51 pm; edited 9 times in total
At first I want to say welcome back!
Second I want to say you are almost good to go.


Could you add a few lines to personality.


could you remove the text behind Bounty and bounty collected, this is only ment to guide you through process of creation.


Why does he want to be killed by most formidable foe that can be found?


Moderator





Posts

: 440


Join date

: 2014-01-18


Age

: 18


Location

: The comfiest couch



Thanks

I hopefully fixed everything and he wants to die to a formidable opponent because:
"..Bushido was grained into him at an early age, an ideal which he follows intensely. In combat, he sees honour as a big part of the fight and will value dying to an honourable opponent."
Moderator





Posts

: 440


Join date

: 2014-01-18


Age

: 18


Location

: The comfiest couch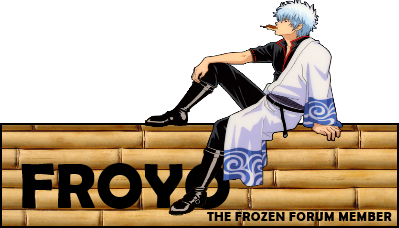 " Pft, crews are for people who are crews and cheese pls ty"
- Words which ring with truth, spoken by the great Vaetric[/size]
Moderator





Posts

: 714


Join date

: 2014-01-06


Location

: In a world known as the Internet




---
Permissions in this forum:
You
cannot
reply to topics in this forum