Welcome to One Piece: Memories
Greetings & welcome to One Piece Memories a place to create memories, make friends & sail the sea. You can take whichever path you choose from a life of justice to a life of piracy and anything in between. Have fun upon the deadly seas that await your arrival.

---
---
Artwork done by
SurealKatie
---

---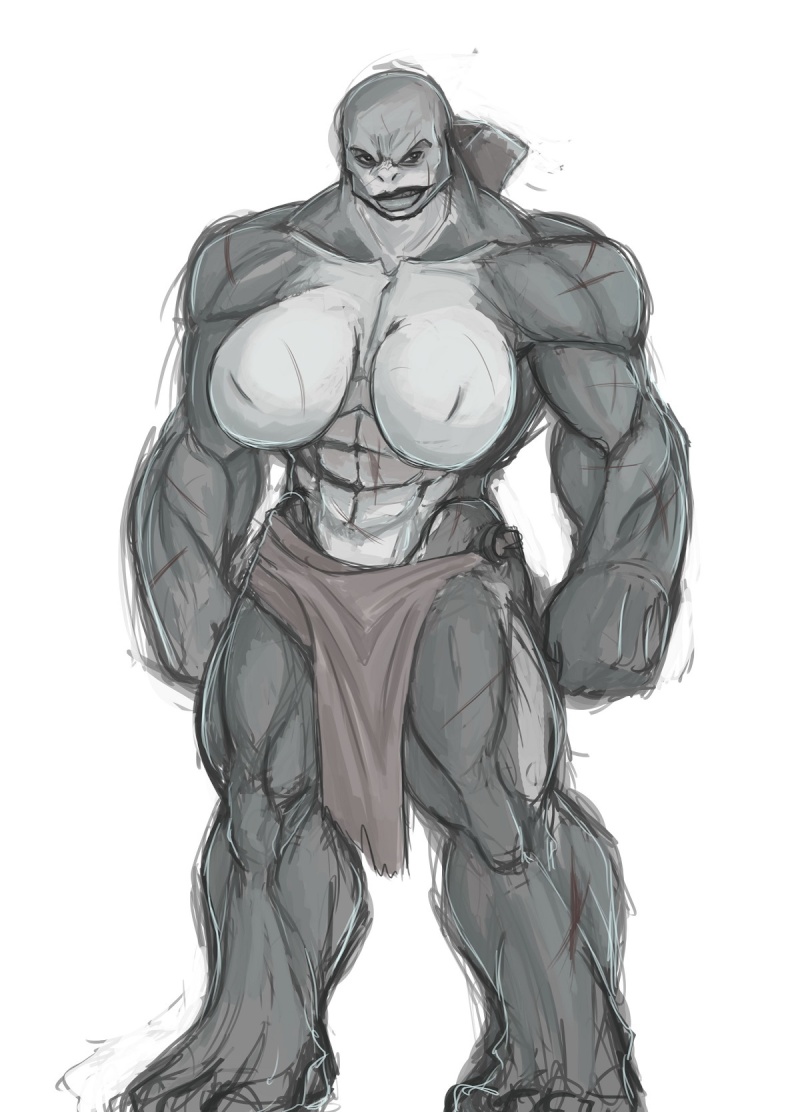 ---

---
Name : Taki
Epithet : "Berserker"
Age : 26
Gender : Female
Birth Place : Fishman Island
Species : Orca Fishman
Orientation : Right-Handed

Crew : Nemesis Pirates.
Ship : N/A
Occupation : Cooper/First Mate
Bounty :
  0
Allegiance : Pirates
Dreams :


To defeat a sea king with her bare hands


Become the strongest person in the world


Defeat the Dwarves that humiliated her

---

---
Flag : N/A

Appearance : Taki is noticeable in two things, one that she is a fishman, being in the orca category, and second that she is very top heavy. Her arms are equal to or even larger than the size of her legs, moreover her bosom speaks for itself. She is very muscular, and due to her race she has ten times the strength of an average human. She doesn't have a nose as far as people can see, but she has slits which allow her to smell. Her fingers have relatively small, sharp nails that allow her to hold onto things more easily.

She has a thin upon her back which flops to her right when she's above water, and has many scars upon her body, mostly small ones that aren't all that deep. She is very large, standing at around eleven foot, towering above humans and some fishmen alike. Her face is always locked into some kind of snarl, at least, her mouth is always giving off the allusion that she's unhappy, even when she isn't. Of course being a fishfolk, she has gills which allow her to breathe underwater.

She wears a loincloth and a breastband that keeps their charge in check. Due to being an orca, her nipples are concealed within folds, making it look like she hasn't got any at all. Her skin is smooth and can get quite slippery when wet, making her hard to keep a grapple on (and vice versa for her on others) Her skin is both light and dark, being an orca she's a mix of white and black. Her lower legs, middle body mouth and eyes are white, the rest being the opposite.




Personality : Like most fishmen, Taki hates. Though, it isn't quite the same as the normal fishfolk, she doesn't hate humans, in fact she doesn't even dislike them, who she hates are Dwarves. She absolutely despises the small species due to a past trauma. Much to her epithet, when she fights, she fights. She generally doesn't try to think during battle, as it can lead to trying to overanalyze attacks when one can just go straight for it. Just like a berserker should, she doesn't wear any armour, and only small, simple cloths (and not much of that either).

She doesn't seem to be quite aware of what people might think, with her being that scantily clad. She wouldn't really listen either. She doesn't really care or conform to what other people think, she just wants to get stronger. She wants to become the strongest person in the world, and to defeat a sea-king, she saw many on her trip and wished to be able to fight and defeat one without weapons. However, for now she still realises that while she doesn't use weapons, other people do. Therefore, she uses two pieces of coral she found as clubs.

She's a straightforward woman, upfront in her battle style as well as her social skills. Unfortunately, even with her great strength, she isn't immune to back pain caused by her bosum, causing her to become easily irritable at times (if not most of the time).
---

---
Taki was born on fishman island, due to her sub-race she wasn't quite the largest child around, but she was still quite impressive. Living in the fishman quarter, she did as they do, learning how to speak, counting the alphabet and so forth. She found that a lot of people where she lived didn't like humans, she hadn't actually seen one so they didn't really bother her all that much. By the time she was fifteen she was already seven foot, and had begun lessons in fishman karate, where she aimed to become at least a level twenty practitioner. She wasn't the most special at it, though her natural strength did help, but neither was she the strongest, making her quite average in comparison to others.

After a couple of years of training she finally reached the rank she was hoping for and beyond, becoming a level 25 practitioner at the age of eighteen. As she was walking home from one session, the seven and a half foot orca felt a punch collide with her jaw, she couldn't see where it came from, nor who threw it but it caused her to fall over. "Hihihihi!" she heard, looking around she saw that no one was there. She was in one of the secluded areas, she only past by it because it was quicker than the other ways. "Sheshesheshe!" she heard again, this time something punched her in the middle of the face (where her nose would be if she were human), causing her to barrel back. She slammed against the wall, when she noticed two small people jump onto her bosum. "We're the Mini-Malicious Pirates, defeaters of all big things!" they both said, one had a flag with a sharp point, the other had a mini-cutlass. "To the blues! Bluuuuues!" she heard many bouts of laughter around her. What the hell are they? She tried to move, but found that they had tied some rope around her hands to the floor. "Silly big person made of muscle and fat, so fat! And blubber!" there were lots of more them now, they all drew small daggers, and started to enter underneath her clothes. "So smoth, and blubbery!" "FAAAAT." She grew angry, straining, she broke the ropes and stood up, trying to stomp the small people who were running around, crawling through her clothing. She swatted, but they were too fast, they started to cut her with their small swords.

She had wounds all over, she grew angrier and angrier, shredding off her clothing so the dwarves had nowhere to be, soon they ran away, laughing and giggling. They attacked her for no reason other than her being larger than they were. She tried to walk home, but soon came across one of the more populated paces, fuming and humiliated, she ran through the jeers and laughter. Anger built up upon her, she was ridiculed by all who knew and people who heard the rumour, she was too embarrassed to even show up at the fishman karate dojo, she started to do training all by herself, away from everyone else. She became afraid of what she soon realised were 'Dwarves', then she hated them. She trained rigorously, using what knowledge of fishman karate she had. Lifting large, heavy rocks, breaking tiles. All of her old clothes started to not fit, due to her not having a job she couldn't pay for them, so she simply discarded it all together, they were not going to climb through them if she doesn't have any. She turned a rag into a loincloth, and another as a breastband.

Soon, however she became weary of training, finding lots of wood, she decided to make barrels that she could sell. She incorporated it into her training, collecting wood from broken ships in the sea and returning to make barrels and sell them, she reverse-engineered the broken ones on ships to create new ones, allowing her to gain some money for actual food, rather than scavenged scraps. She built, she sold and she made again, after a couple of years of both learning her profession and growing stronger and larger, she found that she couldn't grow any stronger. No matter how hard she tried, the rocks she lifted didn't scale with her strength. What she needed was… Experience. She needed to go to the outside world. To the surface. She needed to become stronger than anyone else, and she was going to go to a world fraught with perils.

She stood at the edge of the bubble. Taking a deep sigh and one last look behind her, she left and swam upward. After a couple of minutes, something swam past her. Then again, it was one of the deep-sea fishes, it tried to barrel into her, she responded with a punch, knocking it backwards, but it continued to try to swim toward her. She was smacked into the rocks behind her, where she saw a load of coral sticking out. Grabbing two with her large, meaty hands she pulled, eventually it broke off with her strength and she kicked off the rock, charging toward the fish. She gave it an almighty smack, before it swam away. She liked the feel of the coral, so she decided to keep it. Around halfway to her journey, she saw a gigantic fish, it was one of the sea-kings that wandered the ocean depths. She was amazed by its size, she hadn't truly seen one, what with her being preoccupied. She wanted to fight it to prove her strength, but fear gripped her a little. She didn't feed ready to face it, so she continued on.

The light stung her eyes, yet she hadn't even made it out of the sea yet, it bathed her in its warmth, she could feel it through the cold sea. Just… A little… More…

Fresh air.

Abilities :

Fishman Karate
Taki learned fishman karate from the dojo in Fishman Island, becoming a level 25 practitioner.

Coopering
Taki is able to fashion barrels with the right (and sometimes wrong) materials, barrels are quite important in ship function as they carry the water and other liquids, as well as food.

Strong Teeth
Being an orca fishman, Taki has very strong and closely-knit teeth, which are hard to break or even chip, allowing her to bite most things without fear.

---

---
Weapon : Twin Coral Clubs

Weapon Description : Both are blunt weapons fashioned out of coral, they don't have anything special, and she doesn't have anything to hold them with. Other than her fists. They're both a light purple and have holes in them.

Weapon Special Abilities Nothing special, apart from being quite durable from being so far beneath sea level.

Weapon History Taki ripped them off of larger pieces of coral in preparation for her arrival to the surface.
---
---
Character Strength : Mighty
Character Speed : Lethal
Character Resilience : Professional
Character Dexterity : Skilled
---

---
Unarmed Combat :


Fishman Karate: One hundred tile true punch
The user punches the target hard, and has the potential to send the opponent flying, it is said to be so strong the user can break through one hundred tiles with it.



Fishman Karate: Five hundred tile true punch
A punch five times stronger than its predecessor, it is able to break through five hundred tiles and cause massive damage to organics, breaking bones if it connects.



Fishman Karate: One thousand tile true punch
Ten times as strong as the original and twice as strong as its successor, the one thousand tile punch is said to break through as many as a thousand tiles. It can kill a human in one shot, and cause damage to those behind him/her.



Fishman Karate: Rapids Kick
Taki kicks at the opponent while in the water, causing it to flow in that direction, it can be tiring for a human to swim through it, and is more often than not used to buffet away an attacker.
 

Fishman Karate: Riptide
Taki causes a flying slash through her fingernails, able to cut up beings through sheer force.



Fishman Karate: EF-0 Waterspout
While in the water, Taki spins round and around, faster and faster. She then speeds out of the water, causing the water to come with her and make it look like a waterspout, it goes at a speed of seventy miles per hour and drags both creatures and small ships along it, while the ship simply gets broken up, anything below a metric ton gets forced up the spout and flung away, unless they keep inside of it long enough to reach Taki.



Fishman Karate: EF-1 Waterspout
In the water, Taki spins around rapidly and charges out of the water, causing the water to take the form of a waterspout, this technique is more powerful than the previous one, and is able to bring a medium-sized boat into the air, though it doesn't necessarily means it breaks. The speeds inside the waterspout are as high as one hundred miles per hour.



Fishman Karate: EF-2 Waterspout
Even more powerful than the previous, she does the same, causing speeds of one hundred and twenty miles per hour, the resulting spin in the water below causes an increased distance in who gets caught up with the spin.



Fishman Karate: EF-3 Waterspout
One of Taki's strongest abilities, Taki spins and creates a waterspout of up to 150 miles per hour, increasing the chance of being drawn in and thrown into the air, one could feel the tug from a hundred meters away. Ships are thrown higher into the air, feet upon feet. People are more likely to be injured while in the waterspout due to the insane speed.



Fishman Karate: EF-4 Red Waterspout
The strongest attack Taki can do so far, the EF-4 Waterspout can reach up to one hundred and ninety miles an hour, looking more like a tornado than anything else, it can lift multiple ships (including a marine barge) and lift it high into the air, causing it to crash down into the sea, or generally.. Anywhere within range, it causes a small whirlpool to draw the people who haven't been thrown into the thing within. Due to the sheer speed of the spout, it can rip lesser men's limbs away, causing it to mix with the water and give quite the sight. For all its strength, it requires at least two posts of warming up to create (and spinning).



Fishman Karate: EF-0 Landspout
Like the waterspout, except done on land. Taki warms up for a moment, before spinning around rapidly, causing a small air vaccuum where she is, she jumped upwards, causing a small tornado of sixty miles per hour, anything caught within it would be dragged with her, she usually uses it to smash through something, like a fishman cannonball on a wall.



Weapon Based Combat  : Improvised

Combo Combat  : Improvised

Haki  : Unstable Conquerors / Unstable Armaments


Last edited by Vaetric on Thu Jul 02, 2015 11:17 pm; edited 13 times in total
Approved (Really Nice Coding BTW who did it? It's really good)

Guest

Guest





Collecting on the Stat Points
Stats been increased:
+2 Strength
+2 Speed
Giving Taki Conquerors Haki due to strength.

Increasing strength from the first thread, and increasing resilience from The Vulture.

Similar topics
---
Permissions in this forum:
You
cannot
reply to topics in this forum