Welcome to One Piece: Memories
Greetings & welcome to One Piece Memories a place to create memories, make friends & sail the sea. You can take whichever path you choose from a life of justice to a life of piracy and anything in between. Have fun upon the deadly seas that await your arrival.

General Information
Name
:  Kalyani Kali
Epithet
:N/A
Age
: 23
Gender
:Female
Birthplace
: North Blue
Species
: Human
Orientation
: Right Handed
Crew
:  To be named later
Ship
:  To be named later
Occupation
: Captain/Historian
Rank
: N/A
Bounty
:
none yet
Crimes Committed
: None yet
Allegiance
: Pirate
Dream(s)
:
- Build a crew
- Sail the Grand Line
- Become a Yonko
- Learn more about the worlds history
- find lots of treasure
Character Information
Flag
: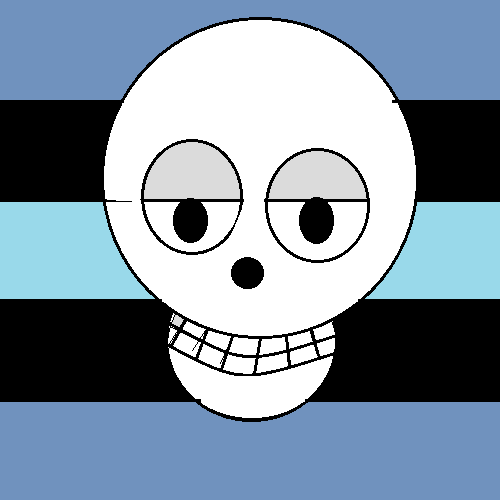 Appearance
:
Spoiler:
Standing at 5'6" Kalyani has porcelain white skin that never tans, no matter how hard she tries to get her skin to darken. Her rounded face is spotless with not a freckle in sight and is home to her ocean blue eyes that are framed by thick eyelashes. Kalyani has long blonde hair that falls to just above her waist. This blonde hair of hers is completely straight except for the way it curls at the tips. Her bangs have long since grown out and allows them to cover half of her face, hiding it from sight.
Clothing wise Kalyani picks based on the color. She will not wear anything with the color pink in it. She absolutely refuses, instead she picks clothing that has cooler colors like blue. Many of her clothes are blue, like her solid blue dress and paler blue vest that's the same color as her knee high boots. Sometimes Kalyani will add a fur lined black coat and black leggings if the weathers color. The only other none blue colors that show up in Kalyani's wardrobe are gold and red. She has a gold and red heart shaped necklace that she wears at all times.
Personality
:
Kalyani is very much hot-headed. When she gets angry be prepared for a storm of stomping around and shouting. Now, that isn't what Kalyani is like all the time, it's just when people upset her. When she's not angry she is very outspoken and loves to debate with people, even if it leads to her getting angry. This
somewhat selfish
women loves treasure and as such will often times lead others off the path in order acquire the treasure.
She may be selfish, but
Kalyani certainly isn't stingy, if you help her get the treasure, she'll split it evenly. This ability to drop everything for a treasure hunt makes her life both flexible and excitable.
Holding little empathy for others, Kalyani only shows her caring side for the people she cares about, which is a relatively small number. In fact, her crewmates are pretty much the only people she actually cares about. She cares about them enough to protect them at all costs, even if it meant losing her life. She would also protect her treasure in such a manor.
Kalyani likes to dream big, and she has determination strong enough to try and fulfill her dreams, and although she won't admit it, she might need some help getting there; after all, she does want to become a Yonko.
Character History
Background
The day Kalyani was born, huge storms had ravaged through the town destroying much and leaving little. The first three years of her life consisted of toddler Kylani accompanying her parents and two older brothers as they set to rebuilding the house that had been ruined. It took a long time due to the family having little money so they had to rebuild it themselves, and it didn't help that everyone else was rebuilding their own homes. This lack of money is most likely what influenced Kalyani's love for treasure.
On her fifth birthday a pirate crew arrived in town, they were actually rather nice and even helped the town get back on their feet by helping rebuild several homes and buildings. These pirates stayed in town with everyone for years. They had never committed any real crimes so no marines ever came after them, and they were happy. When an epidemic broke out four years later, killing many of the pirates and townsfolk, the pirate's doctor worked tirelessly to help alongside all the doctors in the area. Kalyani had caught the disease herself and was bed ridden for an entire year, but she got better. Her father wasn't so lucky. He was one of the ones that had died in the early stages of the epidemic.
While she was bed ridden, Kalyani began to dream of adventure. She was sick of being sick and wanted to be free. She wanted to run around outside and run along the beach. In order to keep Kalyani occupied during these long days the historian in the pirates crew sat with her and the other sick children. This historian told the kids wild tales of adventure out on the seas.  The other children got better one by one and stopped coming to listen to the historian's stories, but every day, even after she had recovered, Kalyani came to listen.
As time went on this historian began to teach Kalyani. The eleven year old was fascinated by the history of her island and even the history of the world; moreover, she showed great promise as a historian with her photographic memory. For seven years Kalyani studied under the former pirate and learned as much as she could, though it wasn't much. Kalyani desired more knowledge, she wanted to learn about the world, but she didn't want to do it alone. She wanted to travel with people, a crew to be precise. The stories about the historians pirating days had stuck with Kalyani throughout the years. When she turned nineteen, she had already decided. She would become a pirate and commandeer her very own crew. Using the old fishing boat left behind by her deceased father she set out to gather herself a crew.
As the years went by Kalyani learned this and that about navigation; she was forced to if she wanted to travel the seas. Two years later when Kalyani was twenty-one, she was still having horrible luck finding people to join her crew. That was when she found the fruit. The Neko Neko no Mi: Model: Cave Lion to be exact. She hadn't meant to eat it, but she did and gained the powers granted by the devil fruit. She could now transform into a Cave Lion, an ancient feline. With this new power boost Kalyani's confidence was boosted and she set out to find herself a crew with renewed excitement.
Now, another two years have passed and Kalyani is still looking for a crew and figuring out how to use her fruits powers. At some point she had read an article about the yonkos, and was intrigued by their strength and another dream for Kalyani was born. She wanted to become one of the yonkos and be considered one of the strongest pirates in the world.
Abilities
:
Photographic Memory
– Kalyani remembers almost everything she's read.
Minor Navigation
– Kalyani can read a map and get herself from one place to the other with only a few wrong turns here and there.
Historic Knowledge
– Kalyani knows a bit about history, though for her it's not enough.
Inventory
Weapon
: an old short sword
Weapon Description
: This old short sword is nothing special, the blade has been kept in workable conditions and is kept in its simple black sheath. The plain blade is made with tempered steel that was molded into the shape of a short sword, the metal itself is worn showing the age of the weapon. The handle is made of bronze wrapped in black leather to give the wielder a comfortable grip.
Weapon Special Abilities
: None
Weapon History
: This sword was given to Kalyani by one of the pirates whom had stayed in her town upon hearing her goal to become a pirate. When the sword was forged almost forty years ago it was given to a young man with the dream of becoming a pirate. This man carried this blade with him for years, but slowly forgot about it. When the man died in an accident, the sword was passed on to a friend, who happened to be the leader of the pirates that settled down in Kalyani's home town. The new owner of the sword never used it, and let its condition deteriorate. He became close friends with Kalyani's father and when he heard her desire to become a pirate he got the sword back out and cleaned it up before passing it on.
Power Level Information
Character Strength
: Trained
Character Speed
:  Average
Character Resilience
:  Proficient
Character Dexterity
:  Proficient
Devil Fruit Information
Devil Fruit Name
: Neko Neko no Mi: Model: Cave Lion
Devil Fruit Type
: Zoan
Devil Fruit Mastery Level
: Level 1
Devil Fruit Abilities
: The user is granted the ability to transform themselves into a Cave Lion, an ancient feline that is now extinct. They have a human, hybrid and full animal forms.
Devil Fruit Weaknesses
: - Seastone, Water and Haki are all weaknesses of this fruit.
Combat Information
Unarmed Combat:
Weapon Based Combat
:


Little Slash – Kalyani pulls her sword from her sheath and lunges for the opponent while swing the sword horizontally, aiming for the chest area. Deals little damage due to swords poor condition.

Devil Fruit Based Combat
:


Lion's Slash – Kalyani takes the form of her hybrid and punches her opponent with her fist.

Lion's Pounce – Kalyani takes her Cave Lion form and pounces on the opponent and pins them down.

Lion's Bite – Kalyani in the form of her Cave Lion lunges at her opponent with snapping jaws intent on biting said opponent.

Combo Combat:
Haki:
Last edited by Izu on Wed Jun 04, 2014 12:41 am; edited 4 times in total

Miki
|
Chizu
|
Fleur
|
Mira
|
Thea|Xanthe
# f781d5
|
# b36666
|
# 99ccff
|
# f5da81
|
# 667a98|# ffff66
Edits

Personality

• This personality for me feels too contradictory. Can you please elaborate on her personality a bit more or settle for one or the other. This is mainly on things such as she is selfish but if you help her she'll split it with you. Just refine it a bit more please.

Abilities

• Where did her minor navigation skills come from? Not explained in the bio.

Inventory

• Please add more information to the Weapon's description. (What colour is the blade? What's it made of? What does the hilt look like?

• Please add more to the weapon's history. This should be the history of the weapon not just the history of how the character gained the weapon.

Weapon Based Combat

• Can you be more descriptive with this technique. Instead of just writing she slashes her opponent can you explain how she does it? (Does she draw the sword across their torso or legs? Does she jab towards them? Etc...)

Edits

• Can you please point out the edits or highlight them once you've made them to help get your app approved quicker.
Admin





Posts

: 1531


Join date

: 2013-12-26


Age

: 27


Location

: Under your bed



Edits have been made! All edits are in red, and ones that have a strike through them will be deleted after approval.

Miki
|
Chizu
|
Fleur
|
Mira
|
Thea|Xanthe
# f781d5
|
# b36666
|
# 99ccff
|
# f5da81
|
# 667a98|# ffff66
Approved
Unless stated otherwise
Admin





Posts

: 1531


Join date

: 2013-12-26


Age

: 27


Location

: Under your bed



I would like to request the deletion of this character

Miki
|
Chizu
|
Fleur
|
Mira
|
Thea|Xanthe
# f781d5
|
# b36666
|
# 99ccff
|
# f5da81
|
# 667a98|# ffff66

Similar topics
---
Permissions in this forum:
You
cannot
reply to topics in this forum