Welcome to One Piece: Memories
Greetings & welcome to One Piece Memories a place to create memories, make friends & sail the sea. You can take whichever path you choose from a life of justice to a life of piracy and anything in between. Have fun upon the deadly seas that await your arrival.

Ship's Name:
Jōshō Taiteki (Archenemy Rising)
Flag: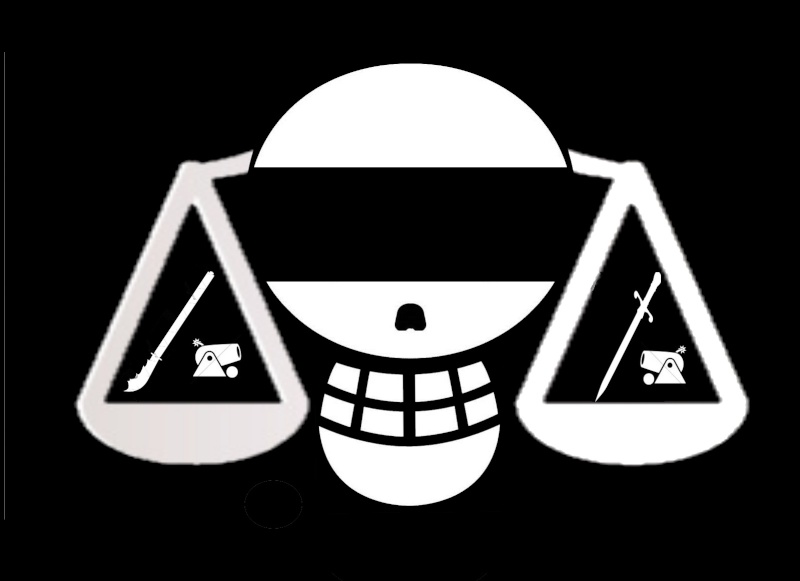 Type:
Frigate(40,000)
Crew:
Kitsune-me
Appearance:
a large ship, for a Frigate, it has 3 large sails to sail it onward. Plenty of room for people and storage, there is also no shortage of Cannons. The bow of the ship shows a Female blindfolded, her hands outstretched above her holding a sword, on the end balancing scales. This follows the tradition of having a female at the front of ships, while also signifying to others that any wrongs against this ship will not go unrepaid. The hull is made of a dark wood, while the decks themselves are a lighter colored wood, but still strong.
Cannons:
12 (8+buying 4[20,000])
Rooms:
27 (5+buying 22[220,000], 2 being a connecting room[2 x 40,000 = 80,000])
1 x Captains Quarters - A room decorated with a comfortable bed, a closet, large round table, maps of various areas, and many other things expected to be found in a captains quarters. This room is, however, almost never actually used except for being passed through by the captain. Includes a dummy the captain sets up in the comfy bed as a decoy for any would-be assassins.
1 x Hidden Chamber(Connected to Captains Quarters)(+20,000 Bigger Room) - The true resting place of the Captain. It is simple, housing both a forge, anvil, his hammer and tongs, and a bedroll for him to sleep in. There are no windows in here, but the heat of the forge is filtered into the Kitchen, so it is always warm in the Kitchen, if not hot.
10 x Bed Chambers - All have simple beds, not as comfy as the Captains Quarters bed, but more comfortable than his bedroll. A decent sized closet and a table and chair is also set up in each room, with plenty of room to fit much more if they so desired. (+300,000[30,000 each] for each to be Larger Rooms)
1 x Kitchen - Refrigerater, stovetop and oven, along with a decent sized pantry, 2 small cupboards, storage for pots and pans, as well as two side-by-side sinks, there is little room to run around in here unless your a decently skilled cook. This does have a walk in freezer, however, which takes a good amount of space. (+20,000 to make this a Bigger Room)
1 x Storage(Tools/Weapons/ect) - Houses all rooms, such as rope, rigging, fishing nets and poles, extra weapons, cannon balls, chains, and other such things. (+30,00 for this to be a Larger Room)
1 x Storage(Booty/Treasure/ect) - The treasury of the ship, where all things valuable reside. Maps, Gold, jewels, fabrics, spices, pelts, dyes, exotic plants, you name it, if itcan be sold for a good price, it goes in here.(+30,000 for this to be a Larger Room)
1 x Library - A place filled with interesting and exotic books from various islands, in various languages, on various subjects. (+20,000 for this to be a Bigger Room)
1 x Doctors office - Stocked with medicine both simple and complex, complete with tools, operating room, operating table, and bookshelffor a Doctors notes and studies. (+30,000 for this to be a Larger Room)
1 x Common Room - This room is often used as as the dining area, as well as the meeting room when situations call for a crew meeting. This is also used as the celebration room, as does the main deck of the ship when the weather is good. There are several couches here(totalling 4) all of which can be pulled out into beds for unexpected guests.(+30,000 for this to be a Larger Room)
1 x Helm - Not so much a room, as it is the small uppermost deck where one individual steers the ship, sometimes with the help of another. There is not a alot here, other than the helm itself, but a small garden is also up here towards the sterns railing, growing herbs and other small plants.
1 x Crows Nest - The crows next, upon the tallest of the masts, is a small, but roomy place, with a room and enclosed ladder to get up and down dry in the event of a storm. There are eight( 8 ) telescopes around the circular room, pointing in all directions.
1 x Extended Ship-wide Aquarium - A large aquarium that has several openings around the ship, with viewing ports in all bedrooms, the common room, and kitchen, and exits on the main Deck in the form of a swimming pool. Wide tubes extend through this pool into other large pockets. This is intended for use to store fish and sea creatures of all kinds for later consumption. Other openings include inside the common room, and inside the Training Room. Each smaller pocket is decorated differently, representing different ecosystems throughout the blues and other areas of the world. (+30,000 for this to be a Larger Room, and +40,000 for this to be a Connected Room)
1 x Training Room - A room filled with weights, barbells, and excercise machines of all kinds, as well as an olympic sized swimming pool, which is connected to the Aquarium. (+30,000 for this to be a Larger Room)
4 x Spare Rooms - These rooms are usually empty, but can be used for anything. They are there to be used as needed. (+120,000 [30,000 each] to make these Larger Rooms)
1 x Main Deck - The very large main deck of the ship, with a swimming pool in the middle, where freshly caught fish are sent to live until they are fished back out to be eaten. It is also a fun place to swim. The rest of the deck leaps to the stern and helm, and the bow of the ship, with few decorations. The main mast lies in the middle of the pool. (+30,000 for this to be a Larger Room)
Additional Weaponry
Weaponry Name:
N/A
Weaponry Description:
N/A
Cost:
1,050,000
Last edited by Kitsune-me on Wed Oct 22, 2014 9:32 am; edited 1 time in total


In the night, when all is calm,
Quiet and peaceful, till the break of dawn,
In the Darkness Death awaits,
A fragile soul, he may take.
                                -Me



Posts

: 43


Join date

: 2014-10-20


Age

: 28


Location

: THE WORLD



I think that's the largest ship on the site so far xD

Approved
Moderator





Posts

: 1242


Join date

: 2014-01-05


Age

: 23



Made changes :

Added 1 Connecting Room (40,000)
Added 1 Room (10,000)
Added 1 Larger Room (30,000)
The above is for the Aquarium Totaling 80,000

Added 6 Bedrooms (60,000)
Made all 6 Larger (180,000)
This totals to 240,000

Upgraded the Library to be a Bigger Room (+20,000)
Upgraded the Kitchen to be a Bigger Room (+20,000)

Added 1 Training Room (+10,000)
Made it a Larger Room (+30,000)
This totals up to 40,000

Added 4 Spare Rooms (+40,000)
Made them all Larger Rooms (+120,000)
This tottals up to 160,000

Added a Main Deck (+10,000)
Made it a Large Room (+30,000)
This totals up to 40,000

This totals up to 600,000


The old Ship Total was 450,000
The New Ship Total is 1,050,000


In the night, when all is calm,
Quiet and peaceful, till the break of dawn,
In the Darkness Death awaits,
A fragile soul, he may take.
                                -Me



Posts

: 43


Join date

: 2014-10-20


Age

: 28


Location

: THE WORLD



Approved
Unless stated otherwise
Admin





Posts

: 1531


Join date

: 2013-12-26


Age

: 28


Location

: Under your bed




Similar topics
---
Permissions in this forum:
You
cannot
reply to topics in this forum