Welcome to One Piece: Memories
Greetings & welcome to One Piece Memories a place to create memories, make friends & sail the sea. You can take whichever path you choose from a life of justice to a life of piracy and anything in between. Have fun upon the deadly seas that await your arrival.

Devil Fruit Name:
Hito Hito no mi Model: Abarimon
Translation:
Human Human Fruit Model: Abarimon
Appearance of the Fruit:
The fruit is a spiky one with hooked arrow points. It is fairly demonic looking, what can be determined as the front has a formation much like a mouth, with the spikes in much higher concentration fitting around it. Eating the fruit appears to be a masochists dream due to its bee-like nature of sticking into flesh and being hard to come out.  
Type:
Mythical Zoan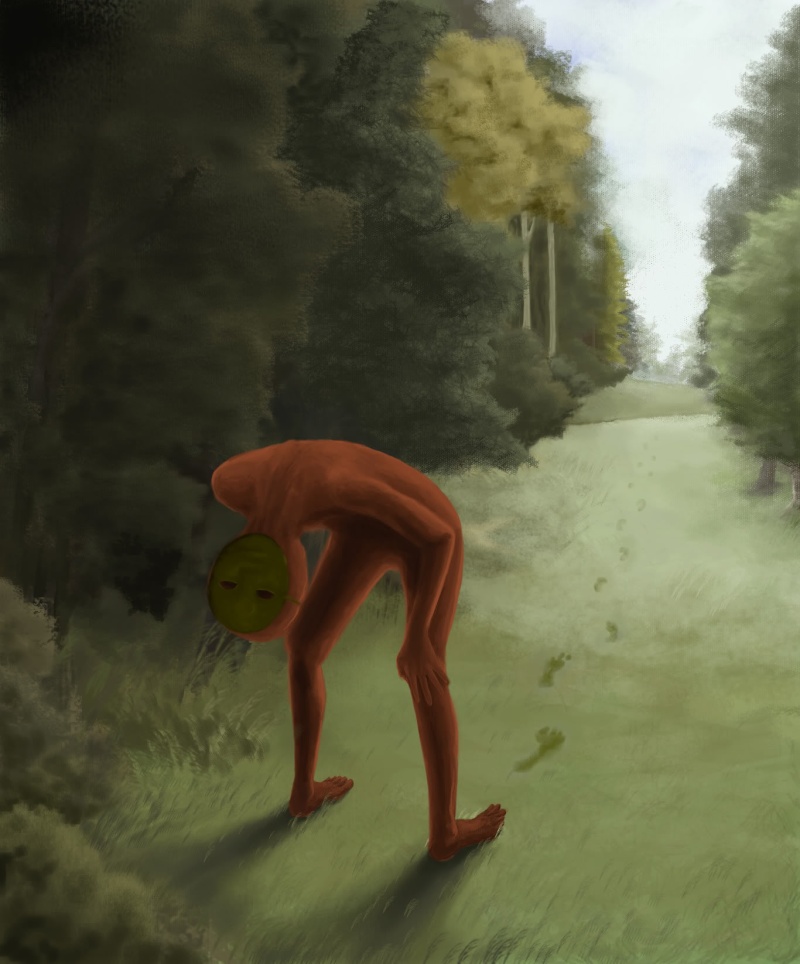 Abilities of the fruit:
Unlike some fruits, the user is stuck in the hybrid version, rather than staying as a full human. When eaten, the users' feet are twisted backgrounds in about as much of a painful way as one would expect. However, somehow the user is able to run much faster than before due to this, which is increased through their mastery of the fruit. When the user is in full Abarimon form, they begin to look much more akin to a anorexic teletuby without the T.V in their chest. They begin to become a bit flatter, with a disc-shaped head with a featureless face, with only a mouth, nose and eyeless lids. Whatever clothes they may have had melds into colourful fur (purple or red), while armour becomes less heavy its still as protective, albeit lighter and more manoeuvrable. As a full Abarimon, the user projects a field around them that follows their moves. Within the field is a different kind of air, it is very, very thin. People who walk into the field find it very hard to breathe, and if they stay in it for too long they can black out or even suffocate to death. Although it is usually a foot radius around the Abarimon's body, they can increase it at will.
Weaknesses:
Seastone. Normal air, (Gas masks with oxygen, etc)
Devil Fruit Progression:
1 à 2 = Eight threads.
Mastery levels
1st Level
The user is able to switch between hybrid and full Abarimon forms, however they cannot return to full human. In both hybrid and full, the user is able to run much faster than they would have been able to as a normal human, with an additional two stat in speed. As a full Abarimon, the users' clothes is turned into fur that covers their body, the durability of the clothes counts to the fur. The user projects a field of air that only they can breathe properly, it is only one foot in radius around the Abarimon, but can be extended to ten feet. 
2nd Level
The users' speed is increased by three stats, that does not go above MAX (same as level one), however once they reach MAX, they instead go one above it. The radius of the air can be increased to fifty feet.
Moderator





Posts

: 1242


Join date

: 2014-01-05


Age

: 23



Approved
Unless stated otherwise
Admin





Posts

: 1531


Join date

: 2013-12-26


Age

: 28


Location

: Under your bed




---
Permissions in this forum:
You
cannot
reply to topics in this forum