Welcome to One Piece: Memories
Greetings & welcome to One Piece Memories a place to create memories, make friends & sail the sea. You can take whichever path you choose from a life of justice to a life of piracy and anything in between. Have fun upon the deadly seas that await your arrival.

General Information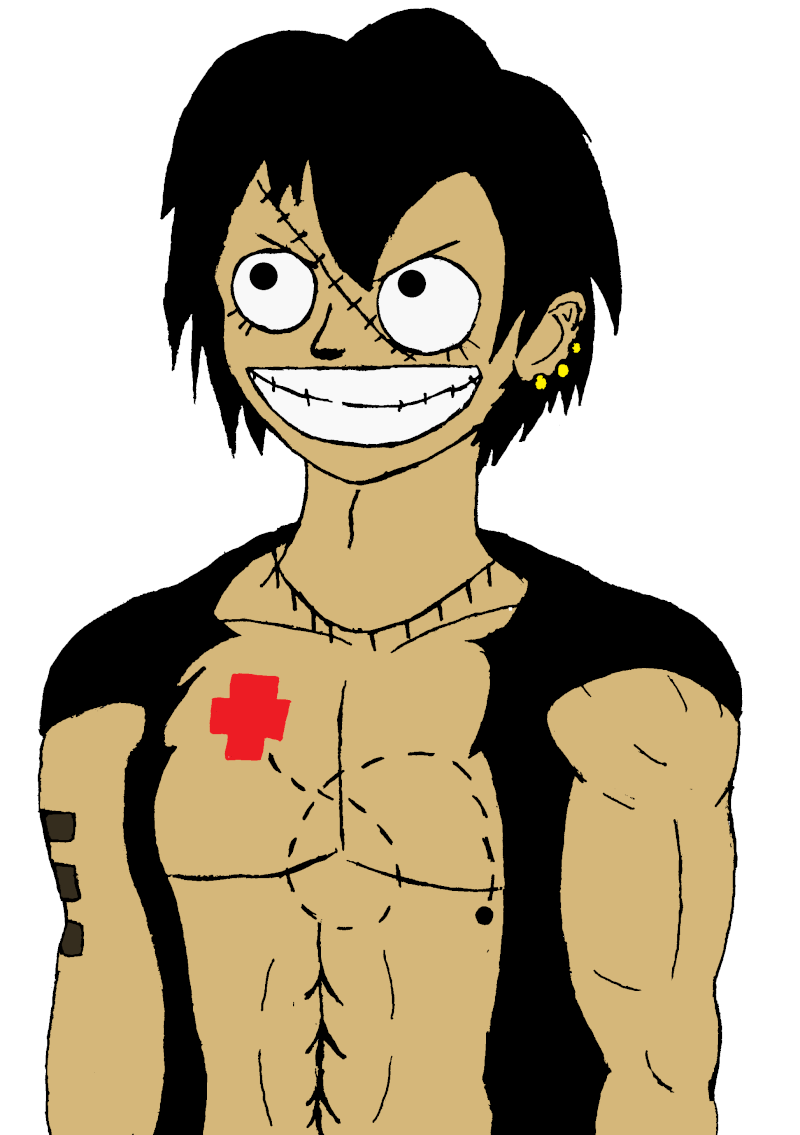 Name
:  Jinpachi J. Duff
Epithet
: jj/Strong Hat
Age
: 17
Gender
: Male 
Birthplace
: North Blue
Species
: Human
Orientation
: Left handed
Crew
: The Strong Pirates
Ship
: Resembles the queen anne's revenge(the actual pirate ship)
Occupation
: Cook
Rank
: -
Bounty
: 
 28,000,000
Crimes Committed
: General piracy(affiliated with his old crew for 8 months), murder(killing his own crew along with kidnapping people to practice his moves on) , failure to comply(running away from marines everytime he and his crew were crew were caught disrupting an island)
Bounty Collected
: 
Allegiance
: Pirate?
Dream(s)
: (true intentions yet to be revealed) to become king of the pirates.
Character Information
Flag
: 
Describe or put an image of the crew's flag here.
a regular jolly rancher but with a scar across the skull
Appearance
: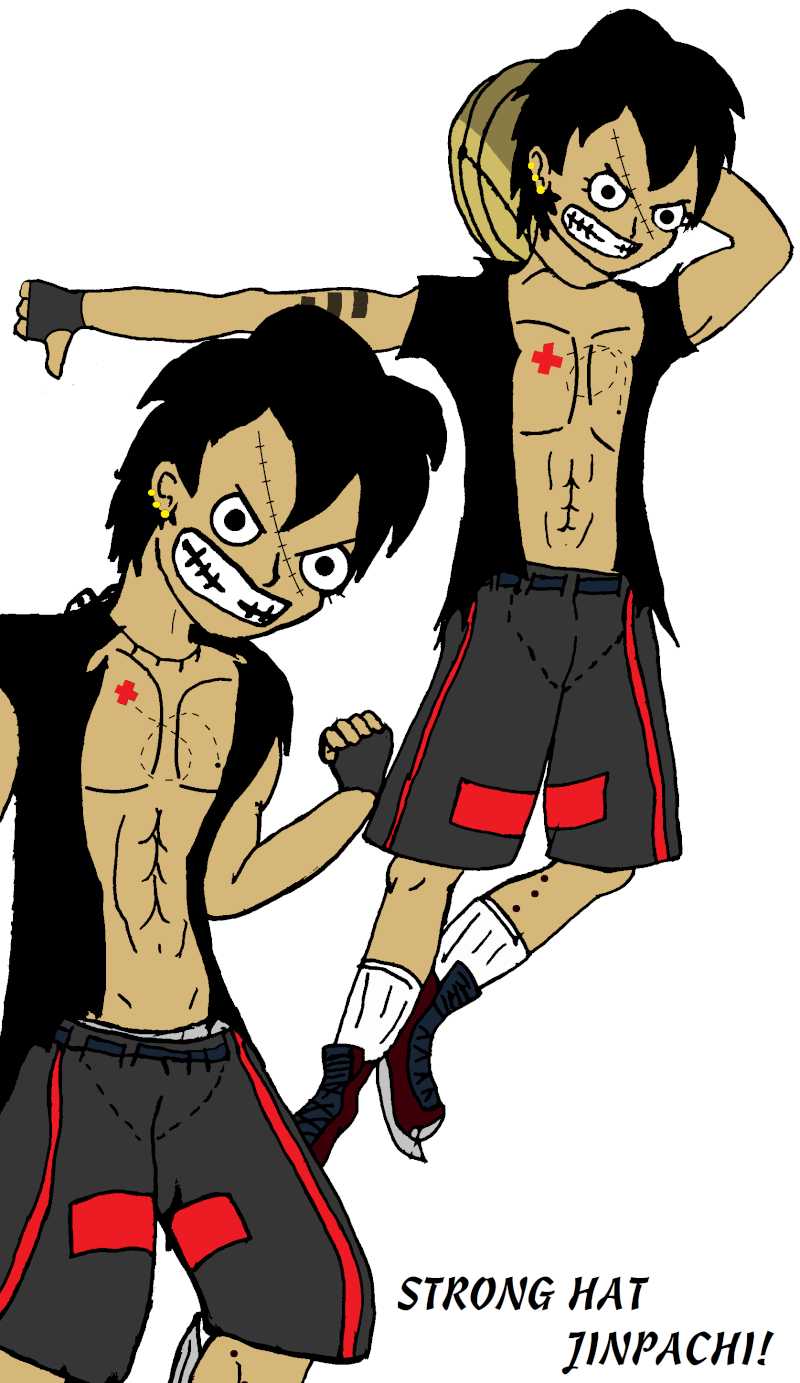 Jinpachi has a dark skin tone. His eye color appears to be pitch black.If one to put a hand on his skin it would feel rather smooth, besides his leg hand frontal lobe section of his face. His body  He is about 5'6 in height he weighs 6 stone. his hair color is brown but extremely dark, making it look black. has a treasure map tattooed across his chest. has 3 grey lines tattooed across his arms. Has a large scar across his face. has 3 orb like earrings on each ears . Has a straw hat with a blue stripe across the middle of the hat. Has a shark bite on his left leg. His usual attire is a very short sleeved, black, leather coat. He wears dimly colored shorts with a red stripe on each side, along with a blue belt. he slightly sags his shorts which shows a tiny bit of his grey boxers. 
Personality
: Write in here what your character is like. Are they hot headed, A hopeless romantic or a bit of a push over? This will need to be at least 10 lines. There is allot you can write for a personality so please do so. We want to know what your character is like in various situations and why too.
A psychotic boy. Spoiled in a way, when he shouts and gets angry. Also very emotional, which is along the side of him being spoiled as he usually intentionally hurts himself when things don't go his way. Neutrally, he appears to be happy but is easily angered by certain things, some of which are being ignored, turning your back to him before he is done talking, Winning against him. He also is very provocative he is usually the one to throw the first punch. He also has an exhilarating craving for watermelon and lemons. When he is losing he seems to always hurt himself in someway, whether it be banging his head against the floor or biting his knuckles. Seems to grimace when someone is not listening to him when he thinks they should be, this goes along with ignoring him. Very physical when he needs to be, this includes when he is angry or in love.
Character History
Background
Duff or Jinpachi gets their attitude from their brash past. Jinpachi grew up losing everything at an incredibly young age. When Jinpachi was born his father had already been out of his life, though His father did not live with him on occasion He would always come back and beg Jin's mother to let him stay for some unknown reason she would always take him back. His father's rage consisted of getting pissed off at the smallest things or taking out his own problems on Jins mother, which included beating her with brass knuckles, throwing glass at her, grabbing her by her hair when she decided to try and walk away from the situation he would say "My problems became your problems when I walked back into his house", it would end up with him hurting her, again and again until he decided to run away from his family again. 
When Jin turned 8 it wasn't long before he became apart of the madness. Duff had to make extremely hard decisions at such a young age. He forced himself to run away from home. His father not only beat his mother, but would take is aggression out on Duff as well, usually he left no visible bruises. One day Duff decided the pain was not worth it, he ran away from home. Though his decision did not last for long, a good two days of being away from home, sleeping on the concrete he and returned only to see his mother, surprisingly she was still alive, though just barely it seemed, As a matter of fact he had run into them on another rage fueled argument, most rage of which was being expressed from his father and not so much his mother. As he went to strike his mother once again, Duff brought a two by four across the back of his father's head. He pleaded for his mother to abandon the house and run away with him. Essentially arguing with his mother it wasn't long till his father was back up, and boy was he pissed off this time. taking a knife from his back pocket he grabbed his son by the back of his neck. He went to slit his throat but with a lot of struggling he managed to only get a large cut across his face, and what did his mother do? absolutely nothing. To this day Jin still does not understand why she never moved. Upon getting beat bu his father he was incapacitated. His vision was blurred and he couldn't see much, next thing he knew he was...in the middle of the ocean? in a small boat with his father it seemed. 
Duff's father had been holding a bucket of chopped up fish. Duff hadn't realized he had it but he soon would as his father dumped the bucket onto Duff. Duff still with blurred vision he questioned what had been going on, seeing the fish guts and severed trout heads he thought to himself 
why does water smell so bad?
  he thought as he laid flat on the boat before his father lifted and tossed the boy into the ocean. The blood spread out in the ocean. Upon the impact of being dumped in he regained full consciousness and swam to the top of the water, he looked at his clothes, soaked in seawater and blood. Fish blood was around the rings of his eyes making it seem as if his tears were blood. he shouted for help, hours upon hours he had been lucky enough to have not attracted the attention of any sharks. soon he saw a ship, about the size of a schooner and began shouting at the top of his lungs for them to notice him, just as a shark made its way to devour him. The shark was smaller than most, it bit into his calf and began to drag him down into the ocean, as he lost his breath and consciousness he saw a spear fly from the sky and then he was out cold. 
Next thing he knew he was in the dungeon of a pirate ship. He was greeted by the captain of the ship, who had tossed him a pair of boots with blades attached to the bottom leading all the way to the back of the boot and wore  a red captains coat and a long black mustache, hanging down to his chest. His eyes were covered by the darkness and he held a cane in his hand. The captain conversed with Duff telling him how he would have been dead if it weren't for him and that he was now owned by the crew"That shark had you by the leg kid, heh heh heh heh. I didn't even notice you at first I thought you were a weak little fish caught by that shark, it's surprising that you're even alive kid, my crew through those spears down at that shark and it died with all those spears to its head...lucky you huh? you get to join my crew, I am the reason you are alive...after all" Cautiously, Duff accepted these terms, as if he had a choice and became a nakama. It wasn't long until Duff became a beloved member of this crew, though it did not change the nature of the crew it self. One day the raided a small island, pillaging every house, killing attacking every person, and collecting on all the beli they could find. Then came the marines, as the captain shouted for everyone to get back on the ship the island was bombarded from Marine warship fire, everyone made it on, even Duff...except for one unlucky crew member, he was only a yard away from the ship, but the captain had demonstrated his cruel nature and sailed without him. Duff asked "we're leaving Davey?" to the captain, not in a sad like tone or anything, he asked as if it were any old question. The captain laughed before explaining to Jinpachi "Remember who your sailin with...as pirates we are ruthless, if everyone isn't fast enough to get on the ship when I say we're leavin' then boohoo to the goo bwahahahahahaha!" he said patting the back of Duffs back, the rest of the crew laughed as well, even with the knowledge that they could of just as easily been left behind. Duff watched as the island burned down in flames. 
A few years later, by the time Duff became the second in command, his change was very obvious, he had gotten into an argument with a crew member over some spilled rum. The crew member decided to leave the argument alone...which was a lot worse than just continuing. Duff placed his hand on his shoulder before he could walk away and said "Didn't your parents..." he lifted his boot and the blade on the boot shined against the sun "NOT TO TURN YOUR BACK ON A BULL?" with that said he stabbed his foot into the back of his crew mate, nearly killing him, the other crew members grabbed him attempting to stop him from doing any more but it wasn't enough, Duff shrugged all of them off, punching a few in their jaws before hopping onto the nakama he had just stabbed, he cracked his knuckles and grabbed the mans head, continually bashed it into the floor until you could see his skull, and even then he kept going until he lost his breath. He slowly stood up and placed his straw hat on his head and said "Anyone else want to walk away before I am done talking?" he said, still out of breath. holding his hat to his head he told everyone "I am done talking now" and walked into the quarters of the ship, everyone was terrified of this boy, who had been the youngest on the crew! but the captain was not, The captain knew his own cruel attitude had rubbed off on him, the son he never wanted nor did he want then, but still...he was proud He had went from the top of the ship down to where Duff had gone Duff breathed deeply and turned his head to see the old man "You gonna kick me off the ship now?" he said breathing deeply still, the old captain had smiled not giving him a straight answer "You don't know how to use those boots yet...do you?" he said approaching the boy "...So what, I'll survive" the man came behind him and placed a hand on his shoulder, actually no, YOU won't" Duff turned with a calm expression "what?" the man walked over and sat on a stool and was silent for a moment "Those boots were mine before I gave them to you, I had them polished consistently and kept in good shape, well the don't look so new now with the blood and all...let me teach you how to use them effecti- doh who am I kidding you don't have a choice" Duff just sat there and stared at him, before long they both began to laugh at the top of their lungs "HAHAHA-okay pops, if I don't have a choice then you might want to get to work then eh?" The old captain had smiled and stood up and patted the boys head.Then, day after day he would teach the boy how to use those bladed boots in private of course, why in private? because the targets he used them on...were real people, Duff had just finished stomping down on one person, the captain laughed "can't have the crew seeing this, Even though they are older than you...they are just kids, children, you've been through some stuff...I can tell, you're ready for this kind of life" he said with a smile, duff looked to him with his own smirk and his eyes seemed to be widened as if he were crazy he had let out a small chuckle "hee hee hee...". one month later Duff's crew had run into a new adventure. Rival pirates, and man did these ones seem nasty, even by Duff's standards. Of course the crew that Duff was apart of through the first punch by shooting a cannon ball at the ship "Let's show'em what crew rules these sea's aye men?" Said the captain of the crew, Jinpachi rand to the front of the ship and hopped on the very tip of it, he held his hat to his head and smiled brightly "I'm not in the mood to lose!" he shouted as they closed in on the enemy ship, with closer inspection the enemy ship was...much...bigger, though Duff was far too cocky to be scared. he was the first to jump to the ship, sliding past a few enemy nakama and shooting up to the post of the ship. taking out their sniper, then he waved to his crew to hop on after him before hopping off of the post. onto the ground of the enemy ship to his surprise he was met with a brute force pound and flew against the ring of the ship. he slowly sat up "W-what the?" he said the crew he was facing was much stronger than he anticipated. Duffs crew hopped onto the ship in front of Duff "stay back duff, we got this!" they said, Duff himself was still pretty shook from that hit he took. He watched as his crew fought against the enemy Nakama. They fought well but it was clear that the odds were bent. many of Duff's Nakama had been wiped out. Duff had been crying at this point. he gripped the wood of the ship. He heard new foot steps, his captain. Duff looked up at him. His eyes filled with tears "C-captain..." Duff spoke. 
The captain took Duff's hat from off the ground and placed it on his head, A smile on his face he walked towards the rest of his crew that was on the ship fairing well against the remaining enemy nakama, until the enemy captain and first mate walked out of the cabins. Duffs fellow nakama didn't last very long, the captain himself was on his last breath. Duff watched  as his crew came to an end, rage and sadness going through his body. he banged his head against the ground of the ship violently, a bit of blood showing from his forehead "Damn it...why is this happening...?" The enemy captain looked down to Duff's captain, holding a sword to his face "looks like you dropped the ball on this one!" he said down to him holding the sword. Duffs captain held his wide smile and turned his head to Jinpachi "Hey..." he shouted to Duff who looked up to face his captain "Live on...live with that smile, that frown...show the world your rage and sorrow!" Duffs captain revealed a bomb under his coat, as well as the other nakama, with their last breath brought bombs from their coats "...JINPACHI J. DUFF!" he shouted Jinpachi's tears ran down his face, he knew what he had to do. He jumped off of the ship and back to his captains ship. he watched as the enemy ship blew up in flames. sending Duff's ship floating a bit away in a wave caused by the explosion. Duff drifted for hours upon hours, his head buried in his knees, before he perked his head up, his eyes wide open and his pupils tiny, he had a small frown on his face and he was breathing deeply "I'm going to give this world what its got coming..." he then smiled and then let out a psychotic laugh. 
Abilities
: List any abilities the character has such as acrobatics, photographic memory etc etc…
Martial artist-
days spent training with his old captain in private had pushed his strength past its original limit training against live targets had put him on the tip of his toes and always acting cautiously while FINISHING off his enemies. The old man taught him the basics of fighting, though his martial arts seem to be mostly foot based since he uses his signature weapon, the bladed boots.
acrobat-
years of running from his father had paid off and not only that but having to hassle onto the pirate ship of his old crew made his cardio really good and much faster since one would get left behind if they did not get onto the ship fast enough in a serious situation. Training with his hold captain had also improved his abilities in movement. He had trained on live fields and had done the many basics of martial arts and stretched DAILY making him pretty limber but most of his abilities rely on moving around rather than extending his body in various positions.
Accuracy- 
Being fragile in some ways Duff had to better himself in his movement, training with his old captain he became much more flexible in area's of movement he can stick a landing from a small building assuming he doesn't die from the fall and is very accurate with aiming at his enemies, which opens up area's for him to attack.
Inventory
Weapon
: Bladed boots
Weapon Description
: his boots have blades attached to them. The blades extend all the back to the upper back of the boot, they look almost like ice skates but he seems to be able to retract them when he needs to walk.
Weapon Special Abilities
:
There doesn't seem to be anything specifically /fancy/ about the blades on his shoes.
Weapon History
:
The man he had got this from, the captain of his old crew had wore these boots, they were always kept in great condition,which is is why the blades of the boots look so clean now, because they were always being replaced. It is assumed that the captain made them himself, though the blades of said boots were always replaced.
Power Level Information
Character Strength
: Advanced 
Character Speed
:  Advanced
Character Resilience
:  Trained 
Character Dexterity
:  proficient
Devil Fruit Information
Devil Fruit Name
: Yami Yami no mi (dark Dark fruit)
Devil Fruit Type
: Logia
Devil Fruit Progression
: 
beginner to advanced 4 threads.
advanced to Master 7 threads(given the amount of damage one could deal with said fruit.
Current Devil fruit Level
: Beginner 
Devil Fruit Mastery Level
: 


Beginner
The user is able to control darkness and its unique property of gravity. The darkness is a void that devours and holds everything. Due to this, the user can absorb physical matter and attacks of any type by sucking it into the darkness. They can spread the darkness over any surface and devour and hold whatever the user chooses. They can also use this ability to irresistibly pull the opponent to them, regardless of their current state. Due to the user's lack of proficiency with the fruit, the darkness shroud can only extend a limited distance from the user's body and the suction of the gravity power is reduced with range. 

The user of the fruit is unable to evade injury by transforming into their element, instead taking greater damage from attacks depending on their resilience.


Advanced
The user's Darkness has become much more powerful, allowing the user to crush items that they absorb in their darkness with an exception to people. This ability is based on their strength alone.

The user's darkness is able to extend over a greater area, crushing whatever they choose within a large range around their physical body and able to use whatever they devour as projectiles against their enemies  with an exception to what ever the user is not strong enough to lift and is completely void to people that are alive . They can use the gravity ability of darkness to irresistibly pull enemies over a longer range then before. The user of the fruit is unable to evade injury by transforming into their element, instead taking greater damage from attacks based on their resilience.


Master


The user now is now able to harness the full abilities of the Yami Yami no Mi. The darkness is at its most powerful and is able to hold and devour objects over an extremely large area and launch them as high-velocity projectiles based on strength. They can nullify the Devil Fruit abilities of anyone in their grasp and use the gravity power to pull in anyone and anything within a large distance. The user of the fruit is unable to evade injury by transforming into their element, instead taking greater damage from attacks. The user is still able to reform their body from darkness when they are injured, although they require a few minutes to recover (1 Post).



Devil Fruit Abilities
:


Devil Fruit Ability:
The first and foremost strength of the Yami Yami no Mi is that it allows the user to control darkness, visually demonstrated by a black smoke-like fluid substance, and its unique property of gravity. The darkness is a void that devours and holds everything. Due to this, the user can absorb physical matter and attacks of any type by sucking it into the darkness. The user can also use this ability to pull the opponent to them, regardless of their current state based on his strength.

The most unique and powerful advantage of the fruit is that the user has the ability to nullify the powers of other Devil Fruits by simply touching the user and draining them of their abilities. All types of Devil Fruit, be it a Paramecia, Zoan, or Logia, are affected by this, though Logias are most affected as they can no longer transform into their respective element. While powerful, the user must actually touch and remain in contact with the victim for the effects to remain constant, meaning that if the victim is somehow separated from the the user's physical touch they will quickly regain their Devil Fruit ability.

Similar to a black hole, the user can absorb things inside the vortex of darkness before regurgitating it. It does not completely compress and annihilate that what is sucked in as an actual black hole would do, but rather creates some form of space where things are stored.

Devil Fruit Weaknesses
:
Due to the Yami Yami no Mi's gravitational ability, The user cannot disperse and let attacks simply pass through them, drawing the attacks faster towards himself instead, meaning he takes equivalent or more damage than a normal human would.
If the user fails to dodge or absorb an attack, they can be harmed just as easily as any other human being. However, like all Logia powers, the user can still reconstruct their bodies from their own elements and it allows the user to shrug off attacks that would be lethal to a normal person; they simply feel the pain but not the effect of damage.
Combat Information
Unarmed Combat
: 
Punch Barrage-  sends a large amount of punches at one time
Out with the bad beans- grabs their enemy from behind and performs a jumping german suplex.
Why. Won't. You. Die?-  sending strong roundhouse kicks to the victim (most effective to the torso) bladed boots retracted.
Drop kick- with a running start Duff sends a drop kick to his enemy( most effective to the face)
Weapon Based Combat
:
BLADES NON RETRACTED
Bladed boot Barrage- Sends many frontal kicks to the enemy( most effective on the torso) 
The first cut is the deepest- sends a strong, charged kick with the blade of his boot across the enemy (most effective to the neck)
How. Are. You. Alive?- sends strong roundhouse kicks to the enemy's torso with boot blades out (most effective to the stomach)
Let's Dance!- hops onto the enemy and continually stabs them with the blades attached to his feet (most effective when the enemy is on the ground)
You're gonna enjoy this…- Sends many stomps onto the enemy at a very fast rate( most effective when the enemy is on the ground)
Strong...FORCE!: A very strong side front kick that is most effective to the enemy's torso that can send the victim flying.
Devil Fruit Based Combat
:
Dark Vortex: Extending one arm, Duff can use his gravity power of his darkness to pull weapons objects and people(npc's) into his grasp.
Blarg!: Duff spits out the remains of whatever he has sucked up and destroyed in his Black Hole.
Come here...: Duff extends his hand with his palm upward his ring and pinky finger are curled as well as his thumb whilst his index and middle finger retract back and fourth in a beacon like motion as if telling someone to /come here/ with his hand which can suck in people that hold in the power of a devil fruit and does not work on anyone that does not have a devil fruit consumed.
Black hole: Duff can suck up people and inanimate objects based on his own strength and hold that of which that is sucked in, in place in said darkness.
Combo Combat
:
Go to hell!- In synergy with /you're gonna enjoy this.../  Duff sends a large stomp on top of the enemy while the blades are out of the boots.
Haki
:
RP Sample
:
(Optional)
[/quote]
Last edited by EnglishDubsDuff on Fri Jul 10, 2015 9:13 am; edited 9 times in total (Reason for editing : updating sections.)
Approved
Unless stated otherwise
Admin





Posts

: 1531


Join date

: 2013-12-26


Age

: 28


Location

: Under your bed



Added Devil fruit information also the devil fruit based combat will not be able to be used until the current thread is over, the only ability he will be able to used is the move listed  "Come here..."
Upgraded Duff stat from his first thread
Trained-> Advanced
upgraded Duffs resilience from second thread finished. 

Also changed DF info after a conversation with an admin.
Res upgraded from finishing recent thread.

Similar topics
---
Permissions in this forum:
You
cannot
reply to topics in this forum