Welcome to One Piece: Memories
Greetings & welcome to One Piece Memories a place to create memories, make friends & sail the sea. You can take whichever path you choose from a life of justice to a life of piracy and anything in between. Have fun upon the deadly seas that await your arrival.

General Information
Name
:  Danryoku Kemono Shisui
Epithet
: Hand of god
Age
: 19
Gender
: Male
Birthplace
: West blue, Dokkingu Island
Species
: Human
Orientation
: Ambidextrous
Crew
: White Wardens
Ship
: The Iron Victory
Occupation
: Marine
Rank
: Captain
Bounty Collected
:
30'000
Allegiance
: Marine
Dream(s)
:
Rid the world of piracy and evil altogether.
Unite the world under the rule of the world goverment.
Bring his brother into custody using his own two hands.
Surpass his father.
Become a vice admiral.
Character Information
Flag
: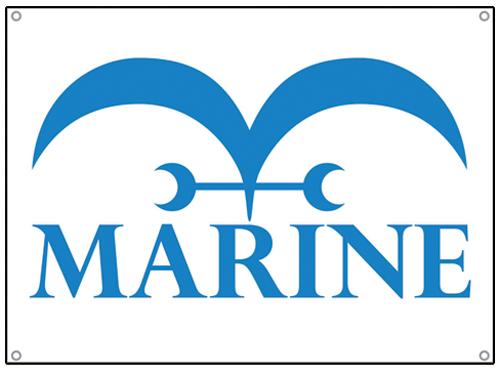 Appearance
:
With an appearance bearing scary resemblance to that of an adolescent giant or ogre of sorts, Danryoku comes in at slightly over a whopping 21 stone, 295 Lbs in total, With only a 6% fat percentage and a frame of 6'10" with a 88 inch reach to back it up, His slightly gargantuan stature and large broad bone structure attributable to a genetic mutation. This is quite visible in his large hands and feet and also his very broad knees and elbows which protrude and are quite defined due to the definition he's trained to have. His entire body from head to toe is chiseled and sculpted to the point where his muscles appear to be trying to break free from his body, His skin clinging tight against his large bulbous muscles allowing for a large amount of muscular definition to be visible, Even if he's wearing his marine uniform. 
With a well defined, Well articulated jawline, Danyroku's large rounded face, Ears, And larger than average cheekbones give him a look reminiscent of a beast of sorts rather than a human, Striking fear into the heart of most criminals he's had to deal with. This can further be seen due to his slightly hollow eyelids and the serious determinant look he usually holds in his eyes. But perhaps the most noticeable facial feature he has is a second degree burn scar starting from the top of his forehead on the left side of his face, And spanning down to the middle of his cheek and almost the side of his nose. The burn is quite a bit darker than the light olive colored skin surrounding it. He also has short black rounded hair with short bangs and Hazel colored eyes.
He commonly dons a large white marine jacket with the word 'Captain' Imprinted in black jet black Kanji over the back of it, Wearing it with his arms through the sleeves except for when he removes it for combat. There are also large deep pockets within the interior of the jacket in which he is able to inconspicuously store both halfs of the pirate buster in.  He dons a jet black sleeveless muscle shirt under his jacket which tightly clings to his body due to him usually keeping it tucked into his baggy blue pants made out of a cotton like material. Manufactured out of leather, Danryoku also wears a pair of thin musician like finger-less gloves and large black boots.
Personality
: Practically being a polar opposite of his brother Otoko, Danryoku quite often holds a demeanor most serious. He cares very little for jokes or small talk, And Holds a strong disliking for childish and immature behavior. He tends to be quite close minded, And even most charistmatic individuals would have a run for their money trying to change his mind about something. He isn't the type to make small talk, Unless it involves the marines or something involving the situation at hand. Though he dislikes small talk which he views as pointless, He will often voice his concerns and his true feelings about particular things to a trusted crew member, If he finds them worthy of his trust. He is able to loosen up a bit if he has a drink, Or many, In his system, Though he still retains a mostly serious and down to business demeanor in most cases. Truthfully, The best way to get to know Danryoku is over a bottle of Sake and a meat of some sort, Which he eats quite frequently due to the high protein content required to sustain his muscle mass.
 He oftentimes is deep in thought, Be it about the future of the marines, Piracy, His little brother, Or how the folks at Dokkingu island are doing, Especially his father. He will never openly discuss or bring up his past, And if questioned about it will usually express his intentions to not speak of it. He was raised on the idea of absolute justice, And Wishes to cleanse the world of criminals and piracy, Even if he must dedicate his entire life to doing so, As the cost of him dedicating his existence to something he already greatly enjoys doesn't compare to the benefit of a future free of piracy and criminals. Danryoku has inherited many of his father's views, And as such believes in his heart that all forms of piracy are a crime and that the world would be much better off run by the world Goverment as opposed to nations supporting themselves, And that the act of piracy as a whole is detrimental to any decent society, Which is why there is a deep passion within him to rid the world of piracy and crime as a whole, One criminal at a time. One may not call this absolute justice, Though, As he does not believe all criminals should be put to death, But rather the punishment should depend upon the severity of crime(s) committed, And that some criminals are worse than others and not all are equal. Though he often is close minded and deeply passionate about his morals and ideas, Danryoku was still raised and learned proper manners and rules of society, And as such treats normal pedestrians and those not in the marines equally and all the same, With kindness and compassion, The obvious exception being criminals and those who wish to do harm to the world Goverment. 
In fact, One of the few things he dislikes more than crude humor and immaturity is those who abuse their power, Be they criminal marine or civilian. Though he holds the position of captain with in the marines, Which comes with the opportunity of leadership, He still doubts himself as a capable leader and as a person in some ways, All because he couldn't foresee his brother fleeing from Dokkingu island, And even worse he couldn't stop him when they had confronted each other. The event in of itself left a deep impact on Danryoku, Strengthening his view of Absolute Justice even further.
Character History
Background
Danryoku was born and raised on a medium sized island in the west blue by the name of Dokkingu Island. His mother passed away due to birth complications when she gave birth to his brother, Causing him to be raised by his father alone. His father, Being an ex vice admiral, Had attempted to instill the idea of absolute justice into his children's head. Since a young age, This idea had always been more readily accepted in the head of Danryoku as opposed to his brother Otoko. Whereas Otoko always aspired to be a pirate and looked up to those who engaged in piracy, Danryoku accepted the idea that piracy in of itself is a crime and must be stopped regardless of severity, As he believes that cleansing the world of piracy is the first step toward a better, More civilized world. These opposing ideals and beliefs are what sparked a fierce rivalry and slight sense of resentment between the two siblings. Growing up, Since as early as they'd been able to take orders and possessed proper listening skills, Their father had been putting them through intense marine oriented physical and mental conditioning, Putting them through absolutely grueling training schedules for just about most of their childhoods. Danryoku's days consisted of usually consisted of running laps around Dokkingu island while carrying heavy objects on his back such as small boulders, Ripping trees and other large objects out of the ground, And then proceeding to use them as punching bags until his knuckles had been bruised or bleeding, As well as many other extreme forms of physical training that only progressed in intensity as he got older. Such as tying one end of a rope around the same small to medium ship sized boulders  he frequently used for weight training and the other end around his leg and swimming out into the sea, Allowing himself to sink to the bottom of the ocean at differing depths and forcing himself to swim up to the surface against the weight resistance. These training exercises were not only forced upon by his father, But he'd be praised for coming up with his own inhuman training regiments. This often was the opposite for his brother, Who had been played down by their father due to his aspirations to become a pirate and his opposition to joining the marines. And his determination to continue on through the Monster-Esque training he'd put himself through, Though his muscles had quite often been sore at most times, One thing had given him the determination to continue training through all the pain, All of the stress and physical trauma he'd put his body through. And that determination came from his dream, His dream of cleansing the world of evil and restoring the world goverments power all across the worlds different nations.
Whenever he spoke of his dreams of becoming a pirate, Danryoku's father would force them to spar with each other, Which far more often then not ended up with Otoko unconscious and his brother the victor. They'd often spar quite frequently, And due to regular periods of sparring, Danryoku had given his brother many scars across his body, Whilst his brother only ever inflicted one upon him. When he was at the age of 17, A mere few months before he'd officially enlist in the marines, His brother had fled Dokkingu island to pursue his dreams of becoming a pirate. Danryoku managed to confront him directly before he'd managed to flee the island. The rage that boiled over inside of him had led to Danryoku losing control of himself and violently attacking his brother, Beating and bruising him badly, And just as he was about to deliver the finishing to his brother in his rage induced episode, Something spectacular happened. His fist went through his brother, Though he hadn't impaled him, No no no, His brothers body had turned to flame, Causing Danryoku to recoil due to the burning sensation that shot through his hand almost instantaneously. As Danryoku would come to later find out from his father, His brother had stolen and eaten the Mera Mera no Mi fruit, Turning him into a flame man. Being completely perplexed at the situation, Danryoku would then throw a flurry of punches at his brother, Each individual strike passing through him and merely singeing his hands more than they'd already been. In his rage, Danryoku had failed to realize his brother had gotten over the same shock which had overtaken him and now had a fist made of fire coming directly at his face. By the time he realized it, It was too late. Otoko's fist collided with the left side of Danryoku's face, Causing a searing pain to course through the area of contact, Enough to cause Danryoku to call out in searing pain as he was knocked back several meters. While gripping the left side of his face and squirming on the beach sand, Danryoku had failed to notice his brother take off away from the Island on the same ship which he'd stolen from Dokkingu Island's harbor, And by the time he recovered from the shock and the pain it had already been too late, Otoko was already several thousand feet offshore, And out of sight. 
After that event, Danryoku was left heartbroken. Upon returning to his father and being scolded for not being able to stop him, Danryoku felt hopeless. His father had felt equally as shocked and angry with the entire situation, But it was different. Whereas his father had been at home drinking, Danryoku had the chance to stop him first hand, And he failed. If only he would have been able to knock Otoko unconscious, If only he'd been able to subdue him before he managed to steal the ship, If only he had the same dreams as him.. After this event, Danryoku only continued to further his training even harder, Quite often overworking himself due to the now new desire to apprehend his brother and bring him into marine custody with his own two hands, His training began to become far more fierce. He'd frequently spend his nights in the jungles of Dokkingu Island, Fending for himself and fighting against the various beasts that roamed the jungle at night, And braving the harsh elements. He'd bumped up his other training regimens as well, Now swimming laps around Dokkingu island and eventually progressing to doing so whilst submerged the entire time, And instead of tying one boulder to his feet while sinking to the bottom of the ocean he began to use two at once. He began to worry the other citizens of Dokkingu island, As he took it upon himself to fell trees and destroy stone and metal objects like boats and abandoned ship parts with his own hands. The times he'd almost drowned, Injured himself, Or lost his life due to his training had now surpassed the amount of fingers he and his father possessed on both hands. 
His father had even begun to worry slightly, But he shrugged it off and instead saw Danryoku's superhuman training regimen for what it was, Sheer determination. Determination to bring Otoko into marine custody and back to Dokkingu island with his own monstrously sized hands. Though, Beneath the surface of a marine in training with undying determination was an aching soul. Danryoku disliked admitting it, But be it them having different ideals than one another, Him and Otoko were brothers, And he missed his little brother dearly. He'd begun reminiscing on all the times they'd spar and train together, How Danryoku would always physically put him to shame, And the fun they'd even had together, Just growing up and being around each other. Danryoku loved his little brother, And nothing could change that, But him fleeing from Dokkingu island was an ultimate betrayal which he felt Otoko should pay for in due time. He'd begun to dwell on many negative thoughts, And had begun to hold resentment toward the wrong people, His father included. He began to feel as if the situation were predictable, And began to mildly resent his father for never taking further action to prevent it from happening. He began to bear Ill feelings towards that damn ex pirate Kishida, And his hatred for piracy as a whole festered. He'd even contemplated getting into his fathers personal sake stash quite a few times, But was able to fight back the urge to drink himself into a drunken stupor, As he'd already experienced his father doing it several times before.
A few months later, It was time. It was time for Danryoku to enlist in the marines as he'd always wished to do, It was time to impress his father. Upon leaving Dokkingu Island to head for basic training, Danryoku's father had gifted him with the Pirate Buster, A set of two gloves made of Titanium and with a brass knuckle like structure coated with seastone on the knuckles that his father had previously utilized years ago, And whilst due to incorrect measurements the gloves were slightly large on his father, They fit Danryoku just perfectly. Upon bidding farewell to his father, His Ill feelings towards him having somewhat decreased in intensity, Danryoku headed off to basic training. 
Within a less than a week after beginning basic training, Danryoku's sheer willpower and determination had already begun to show. He'd aced the written tests, And when it came to field exercises such as dismantling and reassembling firearms and other basic marine skills which he'd been training for practically his whole life, The result was no different. The training routine he was forced to display at basic training was a far cry from his routine at Dokkingu Island, But he suspected that to be due to the fact that most Individuals were not built like him and did not possess the determination necessary to push through the grueling training regimen he'd undertaken, Even using the Pirate Buster during training, Causing him to become quite used to the strain of wearing them. At about midway through basic training, Danryoku came to realize that the position of vice admiral was ideal to him, Due to the freedom and authority intertwining with each other. And thus, He strives to one day reach that position of power within the marines. Upon graduating from basic training, Danryoku was placed into a crew under the watchful eye of a marine captain, And It didn't take long after being placed in the crew to start showcasing his potential. At first, It came as nothing more than helping to repair and maintaining the various weapons across the ship, But soon, Once they had begun to encounter pirates, Danryoku showed what he was really capable of. At first he just helped to subdue small time pirates, And their usually weak and small crews, But as fate would have it he had begun to help bring more and more pirates into marine custody, And directly too, As he'd usually face off with them using his own hands, Just as he wished to do to his brother. The marines, The captain he served under in general, Began to take notice of his helpfullness and how he could help the world goverment, This was further proven when he began succesfully subduing larger, More well known pirate crews on his own at times, Not even requiring the assistance of his crew, And eventually he was given the nickname 'Hand of god'.  His relentless determination showed no signs of ending, And he had begun to rise through the ranks quite rapidly. Being only 17 and a half when he first enlisted, By the time he'd turned 19 he was now a captain, Even being given his own ship and forming his own crew of marines, The white wardens. He's only recently been given these privelages of leading a crew and such, So only time will tell where the sea takes them, Though one thing is for sure. Danryoku and Otoko are destined to meet again someday, Be it in the west blue, The grand line, Or the new world.
Abilities
:
Basic Marine training: Having been training to be a marine all of his life, It's no surprise that Danryoku possesses basic and perhaps even above basic marine abilities. He's quite handy, And is able to repair firearms ship cannons and other weapons, Maintaining upkeep and keeping his crew's weaponry in good condition.
Leadership qualities: While he has yet to prove or even really realize his full potential as a leader, Danryoku has a way with his words and speaks with vigor and confidence, And is able to boost the morale of those he's speaking with.
Large stature: His large body type, Caused mostly due to a genetic anomaly within the Gh1 hormone, Danryoku's body produces an excessively large amount of growth hormone, And is naturally built to be able to withstand strong blows, As due to his muscles acting as shock absorbents of sorts and his large bone structure he's able to withstand a far larger amount of kinetic energy than most.
Advanced combat ability: Due to being personally trained by his father, An ex vice admiral, And sparring just about every day with his brother who may not have been on par with him but still possessed an amount of speed and skill, Danryoku has developed a knack for fighting and is able to fight using any limb on his body. He's also able to change his combat style and adapt to whatever his opponent may be using to face off against him.
Inventory
Weapon
: Pirate Buster
Weapon Description
: The Pirate Buster is a set of gloves individually named 'Boulder' And 'Shatter' manufactured using marine ship graded Titanium and hold great resemblance to brass knuckles on the outside, As the gripping handle is threaded and welded through the sides of the gloves, With large knuckles made of the same material protruding from the gloves where the actual knuckles would be. On the ends of these knuckles are Small rounded ball like structures manufactured out of Kairoseki, Allowing the nullification of any devil fruit ability upon contact with a devil fruit user.
Weapon Special Abilities
: Due to being manufactured out of high grade Titanium, The Pirate Buster is incredibly durable and resilient to damage and wear, As shown through their several decades of use by Danryoku's father, There still isn't a single scratch to be seen on them. Since the actual knuckles are coated in Kairoseki, The user of the Pirate Buster is granted the ability to nullify devil fruit user's abilities upon physical contact with them.
Weapon History
: Being originally manufactured by a marine blacksmith upon request of Danryoku's father, His father had utilized the Pirate Buster and had felled many a pirates and criminals during his decades in the marines, So much so the weapon itself gained somewhat of a reputation. After his time in the marines had been served and he'd retired, Danryoku's father brought the pirate buster back to Dokkingu Island, Where he would keep them until passing them onto his son as a going away gift to take with him to basic training, And to utilize past that.
Power Level Information
Character Strength
: Advanced
Character Speed
:  Advanced
Character Resilience
:  Advanced
Character Dexterity
:  Advanced
Devil Fruit Information
Devil Fruit Name:
Devil Fruit Type:
Devil Fruit Progression: Please write up the progression levels here if using a cannon devil fruit if not delete this section.
Current Devil fruit Level: This will be where it states which level of mastery your character is currently at.
Devil Fruit Mastery Level: If using a cannon devil fruit then please write up the powers of said fruit from levels 1 - the last Level like you would if you were creating a devil fruit. other wise just list the level your character is currently at.  
Devil Fruit Abilities:
Devil Fruit Weaknesses:

Combat Information
Unarmed Combat
:
Immobilization method: Rather than one specific attack, Danryoku will usually wait for his opponent to attack and use their momentum against them with Judo-Like movements in order to stop and Immobilize them. 
Beast's combination: One: Using his surprising speed, Danryoku quickly rushes his opponent, And upon ducking and going in low delivers a powerful uppercut to either the abdomen or chest region, Before clasping his hands around the back of his opponents head and delivering a flurry of fierce knees to wherever he chooses to on their body.
Beast's combination: Two: Danryoku will rush at the opponent, Taking a boxing like stance once close enough and letting off with a barrage of different punches, Usually jabs and straights, Though once an opponent has sustained a few blows and is disoriented enough, He will usually finish off the combo with a hook or uppercut.
Beast's combination: Three: Danryoku will often wait for his opponent to miss or stumble before elbowing them in the facial region, Taking advantage of the sudden pain usually caused by him doing so to follow up with kicking techniques, Usually directed to the ribs. 
Weapon Based Combat
:
Titanium God Breaker: Donning his Pirate Buster, Danryoku will first knock his opponent high into the air, Usually with an uppercut of some sort, Before using every bit of strength in his lower body to jump in the air above them. Once above his opponent, Danryoku will bring his fist down on an opponent and throw every bit of strength and momentum into his punch. Once his punch connects with the opponent, He will bring his opponent down to the ground at a great velocity. Using this move usually results in a crater being formed in the ground where his opponent is forcefully brought down upon.
Titanium Crushing Movement: For this Combo, Like many others, Danryoku will first usually evade an opponents attack before breaking through their defense. Once within grabbing distance, He will usually engulf their head within his iron grip, Squeezing with great force in an attempt at inducing unconsciousness. 
Titanium Shattering Motion: During this combo, If Danryoku gains the upper hand on an opponent, He will often pretend to stumble or make a mistake or some sort to lull his opponent into a false sense of security. If by chance they attempt to attack him, He will attempt to evade their attack, And once doing so, Will clasp his hands together and bring his fists down on an opponent with his full force, Making for a devastating attack if performed correctly.
Devil Fruit Based Combat:

Combo Combat: 
Haki:

RP Sample:
(Optional)
Last edited by Raizen on Sat Feb 06, 2016 10:16 am; edited 9 times in total (Reason for editing : Made da edits.)
Moderator





Posts

: 77


Join date

: 2014-01-07


Age

: 18


Location

: Back from the dead, Residing In hell.



General Info:
 
You need to buy a ship.
Just delete the bounty/crimes committed if he's a marine unless he's done any crimes.
Doesn't say anything anywhere about him wanting to become a Vice Admiral in his background.
 
Appearance:

/
 
Personality:
 
/
 
Background:
 
Why did his brothers flames only hurt him when he actually fought back? Shouldn't they burn his fists as he punched through them?
 
Abilities:
 
You don't need to give him remarkable strength and resilience, that'd be through stats. This is an unnecessary ability.
 
Combat Information:
 
List the names of the attacks and what they do. If you want to detail his fighting style make up one.
 
Combo combat is meant for attacks that work with other people.

Please highlight your changes when you're done.
Edited everything from General info to combat information. It's officially edited now. I can't remember if I sent you a pm or not last night lol.

Deleted the bounty/crimes committed
Brought a ship
Mentioned him wanting to be vice admiral in the basic training portion

Explained how his hands were singed when punching through Otoko

Removed his great strength and resilience

Made a few Attacks for him

He doesn't have any attacks with others as of yet
Moderator





Posts

: 77


Join date

: 2014-01-07


Age

: 18


Location

: Back from the dead, Residing In hell.



You may have listed the names of the unarmed combat section, but you've neglected to do the same for the weapons section.

Furthermore you haven't highlighted your changes so I can't see them on the app.
Made da edits and highlighted. Also, I shall add more combos at a later date as he progresses. :3
Moderator





Posts

: 77


Join date

: 2014-01-07


Age

: 18


Location

: Back from the dead, Residing In hell.




Similar topics
---
Permissions in this forum:
You
cannot
reply to topics in this forum