Welcome to One Piece: Memories
Greetings & welcome to One Piece Memories a place to create memories, make friends & sail the sea. You can take whichever path you choose from a life of justice to a life of piracy and anything in between. Have fun upon the deadly seas that await your arrival.

General Information
Name
:  Okamiro Rokaki
Epithet
: Sea Slasher
Age
: 25
Gender
: Male
Birthplace
: Fishman Island
Species
: Fishman Octopus
Orientation
: Right Handed?
Crew
: N/A
Ship
: N/A
Occupation
: Swords Man Navigator
Bounty
:
 N/A
Crimes Committed
: N/A
Bounty Collected
:
N/A
Allegiance
: don't know yet
Dream(s)
: To find and or make the ultimate sword
Character Information
Flag
:
N/A
Appearance
:
He is about 2 meters high. He has ocean blue skin with red circles here and there on his body. He is quite muscular. In the palms of his hands and under the soles of his feet there are suction cups. He wears a black sleeveless coat that reaches his knees. A pair of white pants with the edges on each pants legs rolled up a bit. He has white and red striped socks along with a pair of brown shoes (the type that usopp uses) he has no hair on his head, so instead he is wearing an orange bandana. He has light green eyes.
On his back he carries his trusty sword "Atlantis" in a diagonal way.
Personality
:
He has a calm mind and do normally not end up in big discussions or arguments if he can avoid it. He is very sarcastic, every time he
gets the chance to be sarcastic, he does so. Have a very odd type of humor, the only thing he finds funny is knock knock jokes.
He likes to sleep very much and under open sky if he can, he finds it relaxing and calming to look at the stars before falling asleep, he is also very fond of astronomy and navigating with the stars.
In combat he is also very calm, he is also very silent during combat, mostly due to planning way ahead, even though he has a huge sword he doesn't go swinging it around like a maniac, he thinks over every move he makes.
To him, family and friends goes over everything, if his friends or family is in danger he will turn away from anything to save them.
Character History
Background
Okamiro, was born during the worst conditions possible for child birth. It was the tide change and his parents where going home from a trip they had been on, but due to the tide change the water currents leading to fishman island where disturbed, therefore sending their ship crashing into a rock. Fishmen came to search the wreck for survivors. They found Okamiro's mother barely alive, and his father was nowhere to be seen. They took his mother back to Fishman Island where she gave birth to Okamiro, and she barely managed to give him his name before she passed away.
Okamiro was send to live with his grandparents, his grandfather was a black smith, which was a very well paid job since the guards wore out their weapons faster than a child wore out cloths, and from Okamiro was around 5 years old he started helping his grandfather around the shop, before he was 6 he had forged his first sword without help, when he was 8 he had stopped a pair for burglars by pouring molten bronze on their faces, and when he had turned 10 he could swing around a 40 pound sledge hammer without any trouble at all. But even in all of this, Okamiro wasn't happy. He felt like he was kept prisoner there because his grandparents wouldn't let him out of the house very often. So when he turned 15 he said he wanted to travel, see the world. His grandparents said no, but he insisted on it until he finally was allowed. But he still did not leave before he had turned 16. When he was leaving on his 16th birthday, his Grandfather gave him a custom made sword, it was very big and very sharp with multiple ways to cut people, but that did not matter to Okamiro, he tried swinging it around a few times, and saw that he needed to train his strength should he be able to use this sword. Then he gave his grandparents a hug, and started to swim towards the surface.
Once he breached the surface, it was night time with a clear sky, no clouds what so ever. And then Okamiro could see the most beautiful thing he had ever seen in his life. The stars. Never in his life had he seen stars, neither a sky full of them, for the first few hours on the surface he just swam around in circles just looking at them. But then the weight of the sword caught up to him and he decided to find some land to sleep on for the night. He found a small island nearby, when on it, he put up camp, and just lied on the grass looking at the stars till he fell asleep. The next morning he woke up very early, packed up his stuff and started to swim towards Shabondy which was the closest town around. Well on Shabondy he started to search around the towns library for books on stars, he found one very interesting about navigating with stars, and within 5 months he could knew everything that the book said. He could all by himself navigate all around the world just by using the stars. Alongside with reading on navigation with stars, he also looked up fighting styles using weapons, one he found very interesting was "one sword style" he found this interesting because he was using one sword as a weapon. At around a month after he was done reading on navigation he had trained and perfected his own style of "one sword style"
As time passed on in his stay in Shabondy he eventually turned 25 and decided it was time to leave, and head for a smaller town, Shabondy was too crowded for him, so he used some of the last Beli he had left to buy a little sail boat and set course away from Shabondy.
Abilities
:
Swift swim: speed doubled in water
Inventory
Weapon
: Atlantis
Weapon Description
: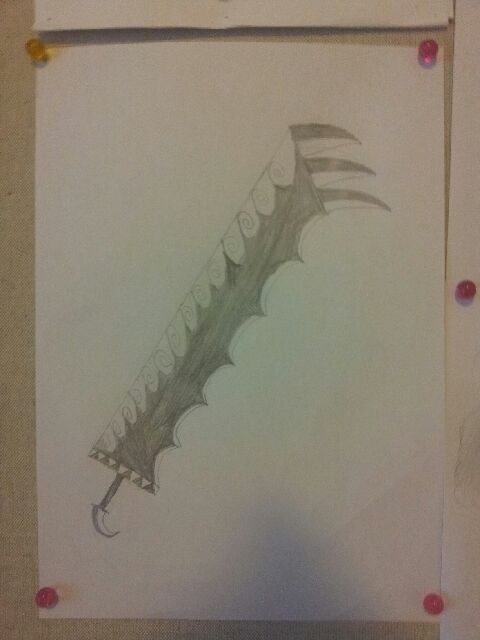 It is around 1/2 meter wide and 1.5 meters long with shaft and pomle. The pomle is made from a shark tooth. The sword weights around 70 pounds, and can not be used by everyone. (ps: the drawing is drawn by me)
Weapon Special Abilities
: N/A
Weapon History
: The sword was made by Okamiro's Grandfather for his 16th birthday. His grandfather made it very heavy so it could strike with great force without very much movement. He also gave it a ocean inspired decoration so that Okamiro would remember from where he came.
Power Level Information
Character Strength
: Advanced
Character Speed
:  Proficient
Character Resilience
:  Trained
Character Dexterity
:  Trained
Combat Information
Unarmed Combat
: N/A
Weapon Based Combat
:
One sword style: Gravity Cleaver: he raises the sword as high as he can and lets gravity do the rest.
One sword style: Tsunami: Slashes from left to right in a half circle swing with the sword.
One sword style: Crusher: he jumps in the air, putting the sword under his feet  like a surf board and then he falls to the earth as he tries to aim at people while he is falling.
Devil Fruit Based Combat
:N/A
Combo Combat
:N/A
Haki
:N/A
Last edited by Okamiro on Mon Dec 29, 2014 2:10 am; edited 2 times in total
First things first, can you replace all the unfilled areas with "N/A" instead of just leaving them untouched.

Second, where did Okamiro learn how to use the one sword style? It's not mentioned in his background.

Third, there are a few spelling mistakes here and there. Nothing big or anything, just wanted to give you a heads up. I recommend using Microsoft Word to type up your next profile, it'll highlight any errors.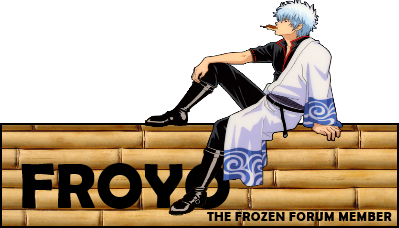 " Pft, crews are for people who are crews and cheese pls ty"
- Words which ring with truth, spoken by the great Vaetric[/size]
Alright, I'm a bit skeptical that he was able to learn about navigating with the starts in just a week. He had just seen the world outside the see and he already knows how to navigate properly? I'd say it takes around 5 months at least.

Once you've changed that, consider this Approved,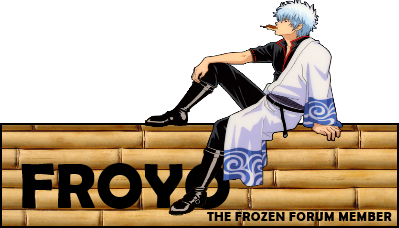 " Pft, crews are for people who are crews and cheese pls ty"
- Words which ring with truth, spoken by the great Vaetric[/size]
Approved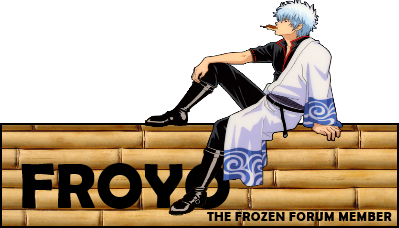 " Pft, crews are for people who are crews and cheese pls ty"
- Words which ring with truth, spoken by the great Vaetric[/size]

---
Permissions in this forum:
You
cannot
reply to topics in this forum